Please welcome guest blogger Lindsey Thompson.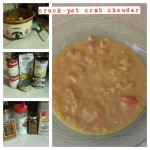 Fall is my favorite season. From the beautiful colors on the fall leaves, to the wonderful smells of pine, cinnamon, and pumpkin. For me, the best part of fall is the chill in the air, a lit fire, and a warm bowl of soup in my hands…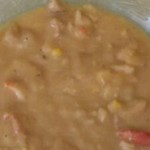 Slow Cooker Crab, Clam and Corn Chowder
2015-11-24 18:39:45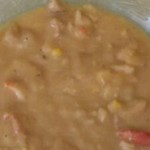 Ingredients
2 cans of crab meat (about 8 ounces of fresh crab meat)
1 can of clams (about 4-6 ounces of fresh clams)
2 cans of cream of potato soup
1 can organic sweet corn
1 cup of water
1/2 cup of whole milk or cream
1/2 cup of chicken or vegetable stock
One onion (chopped and sauteed until transparent)
1/2 stick of butter
Pinch of salt
1 tablespoon chili powder
1/2 teaspoon garlic powder or two cloves finely chopped
1 tablespoon Creole seasoning
Slow cooker
Instructions
Combine all the ingredients in the slow cooker. Cook on high for two hours or low for four hours.
Notes
I use 1/2 stick of butter to saute the chopped onion and pour the entire pan into the slow cooker.
Goes great with sliced sour dough bread toasted with butter or oyster crackers, a blanket, and a good book.
Try It Tuesday https://tryittuesday.com/