It's been awhile since I've posted here. Life has been crazy since coming back from the holidays. DD is at musical practice three days a week until 5, plus Girl Scouts and riding lessons. Work is ramping up as we head through the final four months of school, I've taken on a new consulting project doing a book layout for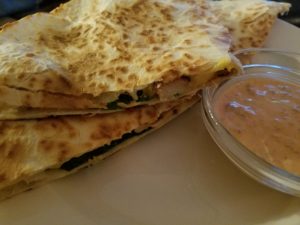 a coworkers children's book (can't wait to share it with you), and Steve is also finding the new year busy. By the end of the week we are pretty fried and ready to just relax through the weekend.
We are still trying new recipes when we can. For Christmas Steve bought us a electric pressure cooker, I've tried a few recipes in it and will share some soon.
The recipe I'm sharing today was using the leftovers from a new recipe Steve found for Grilled Korean Chicken. It was delicious. I recommend giving it a try and then using the leftovers to make this quick easy weeknight dinner.
Korean Grilled Chicken
Ingredients
1

cup

soy sauce

3

tbsp

rice wine vinegar

2

tbsp

honey

1

tbsp

heaping, Korean chili paste

2

tbsp

grated fresh ginger

6

cloves

chopped fresh garlic

1

green onion thinly sliced

2

tsp

toasted sesame oil

Fresh ground black pepper

4

boneless, skinless chicken breasts

1 1/2

tsp

toasted sesame seeds

optional
Instructions
Whisk together the soy, vinegar, honey, chili paste, ginger and garlic in a bowl and divide the mixture in half. Add 1 half to a large baking dish, then add the chicken, turning to coat. Cover and let the meat marinate in the refrigerator for at least 4 hours or up to 8 hours. Add the green onions, sesame oil, and black pepper to the remaining half of the mixture. Reserve it as a dipping sauce for the finished chicken.

Light a grill, making sure to include a zone of indirect heat.

Remove the chicken from the marinade and grill it over indirect heat until done. About 8-10 minutes per side depending on thickness.

Remove the chicken and let it rest. Cut the chicken into strips.

Serve with the dipping sauce.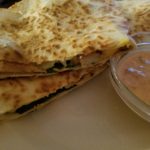 Korean Grilled Chicken Quesadillas with Spicy Dipping Sauce
Ingredients
4

Large Flour Tortillas

2

Handfuls

Fresh spinach

Shredded cheddar cheese

1-2

leftover Korean Grilled Chicken breasts

see recipe above
For Sauce
3

tbsp

light sour cream

3

tbsp

Korean Chili paste

2

tsp

rice vinegar

1/4

tsp

sesame oil
Instructions
Whisk together sauce ingredients and set aside.

To make quesadillas, heat a large frying pan. Place one flour tortilla on the cutting board. add a layer of cheese, chicken, and spinach. Cover with another layer of cheese and top with another flour tortilla.

Place in the frying pan and brown. Flip and brown the other side. Cheese will be melted.

Serve with dipping sauce.