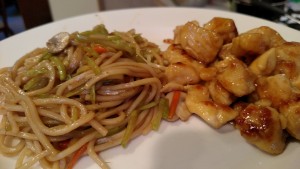 I cringe inside to post this recipe. Not because it wasn't fantastic, but because we stood up on our soap box on Tuesday and declared for everyone who could hear that we are in a chicken rut. Not just a little chicken rut. But a full on, seven day a week, chicken rut. I had declared my rut right along with Maria (what I did not admit, however, was that the night before while grocery shopping I did indeed buy a whole chicken – it was $4.25).
I always try to have Crazy Cuizine Orange Chicken in our freezer (or Trader Joe's version if I happen to be near one) for just those days when we need a meal in a hurry. This doesn't happen nearly as often as it used to, maybe because we are better scheduled or maybe because Try it Tuesday has given us a whole arsenal of recipes to pull off the shelf in a hurry. The bad part is this – our recent trip to Costco we came up empty handed. They had changed the brand they are carrying and we just didn't feel quite like trying it.
There was a clamoring for Orange Chicken in our house – so I did what any good Try it Tuesday'er would do. I pinned a recipe, bought the ingredients and tried it. Double thumbs up from the hubby, and dd had two helpings! Recipe Credit goes to Bubbly Nature Creations. While the name says copycat Panda Express – I didn't think that was quite the case. Anyway it was still yummy and I will definitely make it again.
Just a side note: I did not deep fry my chicken pieces. Probably why it wasn't quite the Panda Express copycat. Instead I used my wok and cooked the chicken in small batches until golden brown and done. I kept the batches warm in the oven until I had cooked all the chicken. I did dip the chicken in flour, but I think next time I might dip it in a little corn starch.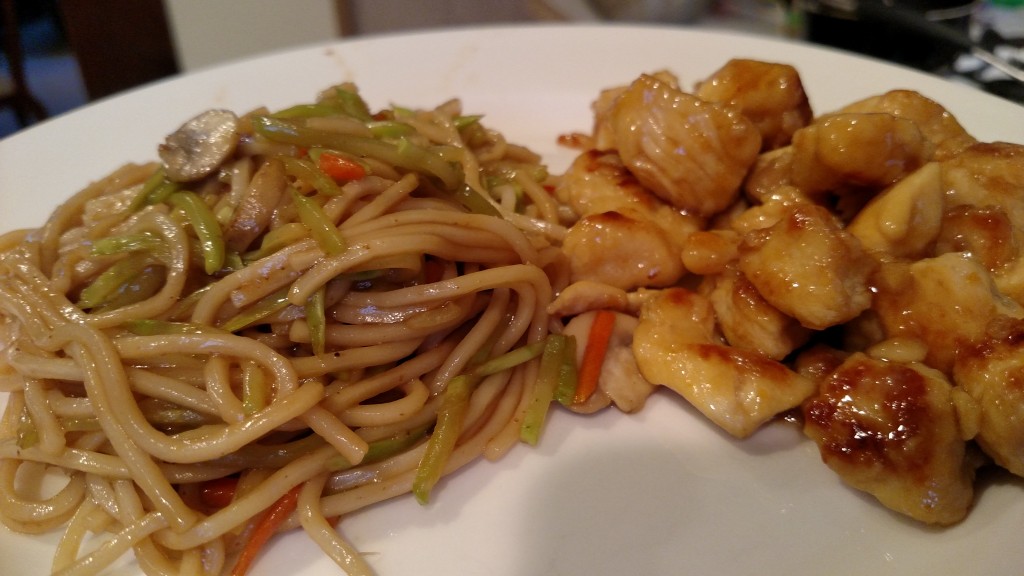 Orange Chicken Copycat Panda Express
2015-09-14 18:14:04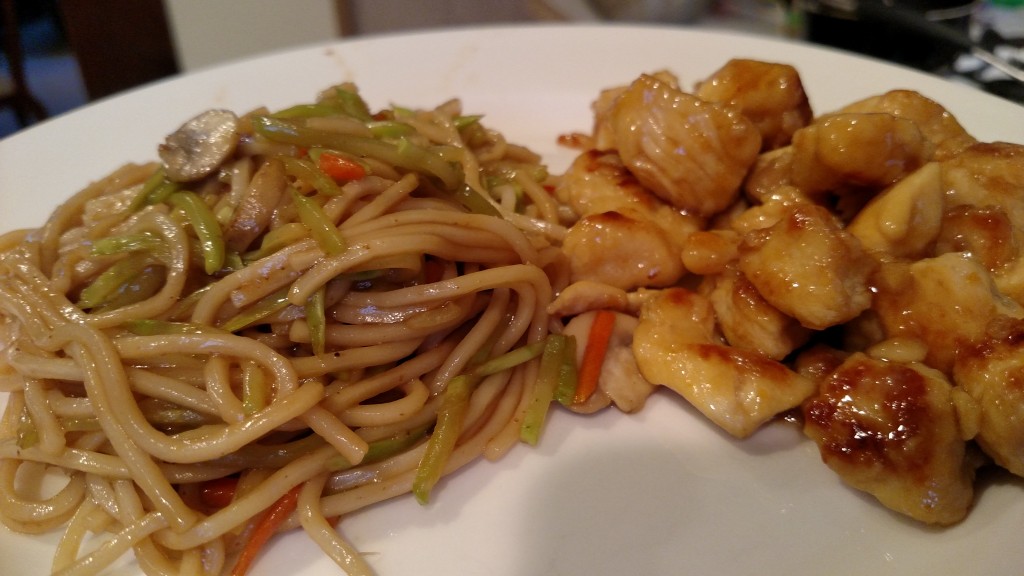 Ingredients
1 pound chicken breasts cut into irregular 1 inch cubes
1-2 cups self- rising flour
2 eggs
Oil for frying (I used Peanut Oil)
Juice of 1 large orange
1/4 tsp. orange zest
2 Tbsp. soy sauce
3 Tbsp. sugar
1/4 cup rice wine vinegar
1/2 tsp. Siracha sauce
1 clove of garlic minced
2 tsp. corn starch
Instructions
Heat your oil in a frying vessel to about 375 degrees… this will be a deep fry so make sure there is enough oil to cover the chicken. Take the eggs and whisk in a bowl until they are mixed thoroughly. In another bowl put 1 cup of the flour (you can add more later if you need it). Take about 1/4 of the chicken (depending on your frying vessel the chicken will need to be done in batches… chicken should not be touching in the fryer). Dip the chicken first in the egg then coat it with the flour. Repeat until you have the desired amount to fry. Fry all the chicken and place into a 200 degree oven to keep warm
Meanwhile make the sauce: Combine all the sauce ingredients in a small pot (making sure that the cornstarch is dissolved before cooking.
Heat on medium heat until the sauce thickens.
Place fried chicken in a large sized bowl and pour the sauce on top… mix until chicken is coated. Serve immediately.
Alternate version
You can also make this recipe without frying the chicken… just stir fry the chicken in a small amount of oil until the outside is golden brown and insides are cooked through.
Try It Tuesday http://tryittuesday.com/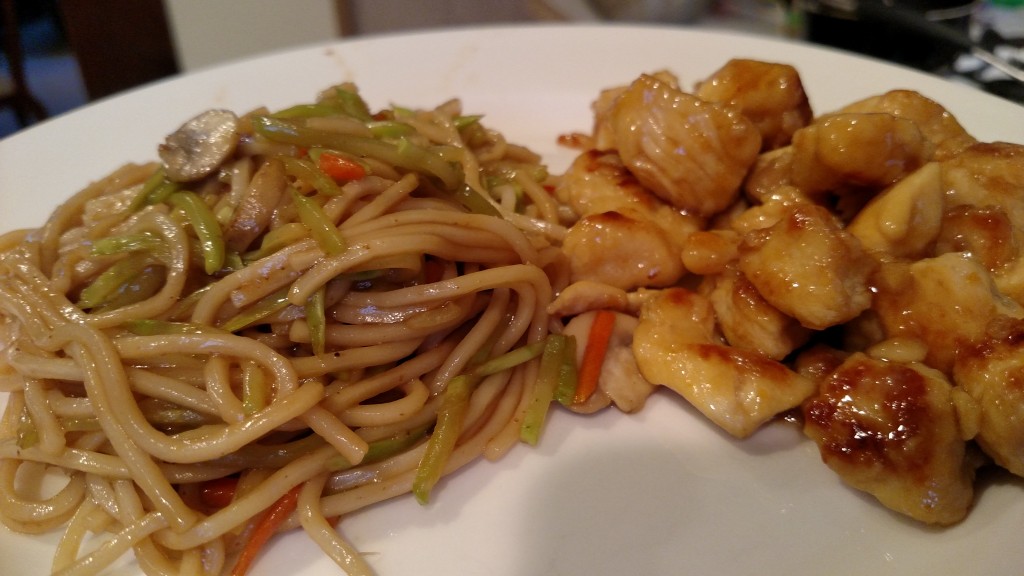 Chow Mein
2015-09-14 18:16:16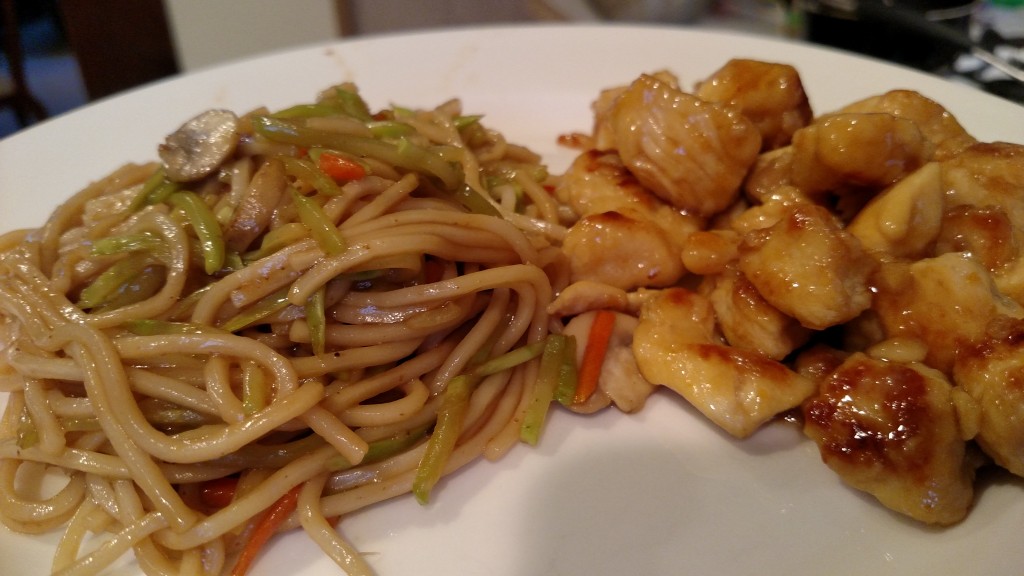 Ingredients
Chow Mein noodles cooked according to package direction. Drained and cooled.
1 package of Broccoli/Carrot slaw
Mushrooms, chopped onions, or any other vegetable you want to add
Peanut oil (or olive oil)
Stir fry sauce (I used House of Tsang Classic Stir Fry Sauce)
Instructions
In a hot wok, heat oil.
Add vegetables and stir fry to desired doneness.
Add 2-3 Tbsp of the stir fry sauce and the chow mein noodles.
Toss together all ingredients in the pan (you may need to add more sauce).
Heat through only a few minutes. Serve.
Try It Tuesday http://tryittuesday.com/