Who doesn't love fresh fish? Moving back to the West Coast, especially the PNW, has brought us back to being able to get some of the freshest fish imaginable. So on a recent weekend jaunt down to Pike's, we brought home some beautiful yellowfin tuna and King Salmon from Pike Place Fish. You know, the guys who throw fish? If there is one thing you need to do in Seattle it's visiting these fun loving, crowd pleasing fish mongers. What I especially love about them is they are the only 100% sustainable fish market at Pike's and have an endorsement from the Seattle Aquarium to prove it.
And of course, with fresh fish comes the inevitable question of how to prepare it and what to prepare with it. Luckily for me, #TryitTuesday was still over a day away. That gave me plenty of time to pin (of course, I've pinned tons of recipes but none of them were tuna). Which of course led to the inevitable PDD (Pinterest Distraction Disorder).
We settled on a Honey Lime Glazed Tuna by John Mitzewich. Click here for the full recipe. It was delicious. Simple enough to provide a nice tang and yet still allow the lovely tuna flavor to shine through. The only thing we didn't do (and I would certainly do next time) is allow it to marinate for 30 minutes as the recipe recommended.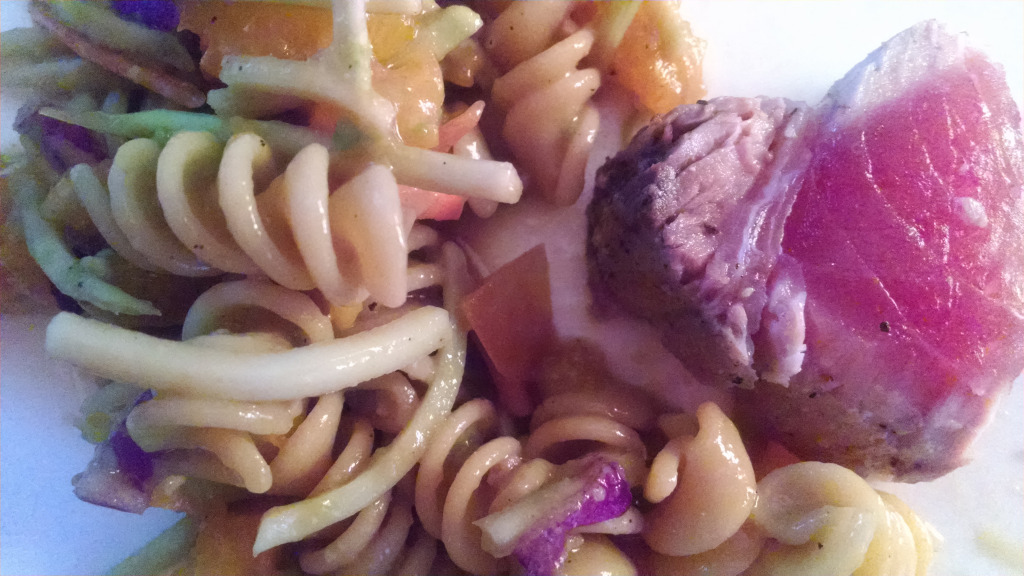 As a side I made a variation on an Asian Salad I had pinned. The original recipe was posted by Chung-Ah Rhee on She Knows website. I didn't have all the ingredients so I improvised. Sometimes magic happens. My dh loved it so much he asked me to make it again!

As always, we challenge you to join us by trying out something new on Try it Tuesday!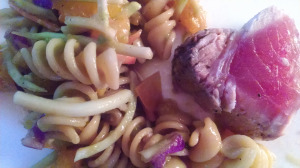 Honey Lime Glazed Grilled Tuna
2015-09-14 20:31:09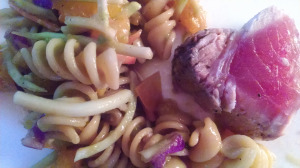 Ingredients
2 limes, juiced
1/4 cup olive oil
2 tbsp rice vinegar
2 cloves garlic, crushed and minced
1 tablespoon grated fresh ginger
4 six-ounce Ahi tuna fillets
salt and fresh ground black pepper to taste
1/4 cup honey
vegetable oil, as needed for grill
Instructions
In a bowl, whisk together the lime juice, olive oil, rice vinegar, garlic, and ginger. Lay the tuna fillets on a plate, season with salt and fresh ground black pepper to taste, and spoon over 1/2 of the glaze, turn to coat evenly. Let marinate for 30 minutes in the refrigerator. Add the honey to the remaining half of the glaze and mix well.
Heat an outdoor grill on high. When the grates are hot, lightly oil, and place tuna fillets on the grill.
Cook for about 2 minutes, and turn over, brushing the glaze over the cooked side. Grill 2 minutes more for medium-rare to medium. When fish is cooked transfer to a plate and brush the honey lime glaze over the other side of fillet.
Serve immediately with any remaining glaze.
Adapted from John Mitzewich
Try It Tuesday https://tryittuesday.com/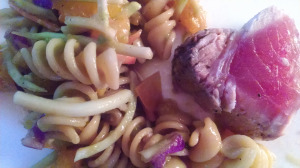 Asian Pasta Salad
2015-09-14 20:33:18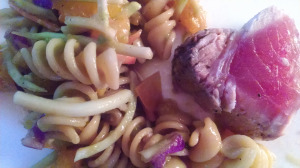 Ingredients
Rotini Pasta
1 Yellow Bell Pepper diced
1 Avocado chopped
1 10 oz can of Mandarin Oranges in natural juice, drained
Broccoli Slaw (Broccoli, Carrots, Red Cabbage)
Crispy Wonton Strips
Dressing
4 Tablespoons Soy Sauce (low sodium)
2 Tablespoons Rice Wine Vinegar
1 teaspoon sesame oil
1 teaspoon fresh minced garlic
¼ teaspoon ground ginger
Fresh ground pepper
Instructions
Cook rotini based on packaged directions to al dente (I used about ½ a box). Drain and cool. Add chopped pepper, avocado, mandarin oranges, and slaw. In a separate bowl whisk the dressing ingredients together then add to the pasta. Lightly toss to blend flavors through. (Taste – you may need to add more soy sauce, vinegar or pepper depending on your pasta quantity). Refrigerate for one hour before serving to blend flavors. Add wonton strips before serving
Adapted from Chung-Ah Rhee
Try It Tuesday https://tryittuesday.com/