Have you ever pinned something that really stuck in your mind?
When you clicked that lovely little red and white button instead of just disappearing onto a board, never to be attempted or seen again, it danced around your mind for days, weeks even.
Begging to be remembered.
This recipe was like that for me.
So when Try it Tuesday was born there was no question in my mind as to what I'd be making first.
Crispy Beef
It did not disappoint.
It's crispy and salty and meaty. It's the kind of meal that makes you want to linger on the patio eating the crumbs.
The memories of it will wake you up in the middle of the night, wishing for leftovers.
You think I'm exaggerating?
Try it and prove me wrong.
My kids all loved it, even the picky 8 year old.
Changes: I left out the jalapeno, simply because I knew it would cause drama with the under 10 crowd. I also found that the beef cooks up much crispier if you dredge the marinated beef in the cornstarch instead of just tossing it as the recipe suggests.
Served alongside rice and roasted broccoli and cauliflower, it's pretty close to perfection.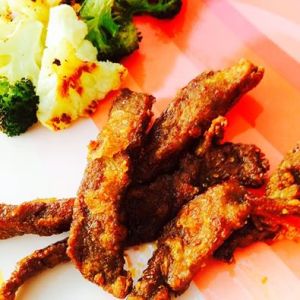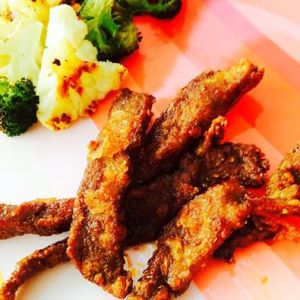 Crispy Beef
2015-09-14 20:27:08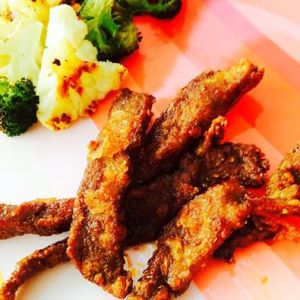 Ingredients
1½ pounds stir fry steak slices (pre-sliced) or sirloin steak cut into thin slices, about ¼-inch thick
3 tbsp. low-sodium soy sauce, divided
6 tbsp. cornstarch
1 medium-sized navel orange
3 tbsp. molasses
1 tbsp. rice vinegar
1½ tsp. sesame oil
1 jalapeño, de-seeded and thinly sliced
3 garlic cloves, minced
1 tsp. freshly grated ginger (or substitute ½ tsp. ground ginger)
½ tsp. red pepper flakes
2 scallions, chopped (for garnish)
4 cups or 1 quart of canola oil, for frying
Instructions
In a large bowl, toss beef strips in 1 tbsp. soy sauce then sprinkle cornstarch on top and toss to coat evenly. Place coated beef on a wire rack atop a baking sheet and place into freezer for 45 minutes. You'll need to do this because the freezer will dry out the surface moisture of the beef thus helping with the crispiness of the beef.
In the meantime, using a vegetable peeler, peel the outer zest of the orange into long strips then slicing them into thinner strips. Cut the orange in half and juice it until you get ¼ cup of Place the orange zest strips, orange juice, the remaining 2 tbsp. of soy sauce, molasses, rice vinegar, sesame oil, jalapeño slices, garlic, ginger, and red pepper flakes in a medium bowl and whisk to combine.
When ready, heat up a canola oil in a large, heavy-bottomed pot, such as a dutch-oven, to 375 degrees Fahrenheit. Set up a large plate lined with two layers of paper towels.
Once the fryer has reached the correct temperature, gently place ⅓ of the beef into the pot. You don't want to place all of it at once or else it'll drop the temperature too low and you don't want the beef strips to clump 🙂
Fry the beef strips for about 3 minutes. They will be a nice golden brown. Remove with slotted spoon or spider strainer and place onto lined plate. Repeat until all the beef strips have been fried.
In a large skillet over medium high heat, add the soy sauce mixture with the orange zest strips to the pan. Bring to a boil then lower the heat to a simmer and cook for about 3 minutes. Remove from heat then add the fried beef strips to the pan and toss to coat evenly.
Serve warm over white rice and enjoy!
Adapted from Table for Two
Try It Tuesday https://tryittuesday.com/