I have a perfectly good excuse for why my Try It Tuesday was postponed and why it ended up being made on Sunday followed by an encore presentation on Tuesday. Someone asked the other day what happens if you can't make your Try It on Tuesday? Try for Wednesday or Saturday or whatever day works for you. We just encourage you to step outside your comfort zone and try something new.
I decided to revisit my Try It Tuesday challenge over the weekend. This time inspired by my husband, Steve, who said, "Why don't you make quesadillas?" I'm not going to say no to that especially since it involves cheese. My immediate response was, "I think I pinned something like that." Off I went to search my Pinterest board. Much to my chagrin, I had not pinned any so I felt the necessity to take some time to find just the right one.
After pinning a few different recipes I found one for Spicy Peanut Chicken Quesadillas by Kevin Lynch over on Closetcooking.com. We love Thai food. There is a wonderful Thai place in Bothel called Pen Thai. It is worth a trip if you ever come here for a visit. The Pen Special Fried Rice and the Chicken Satay are divine. We also love the Thai Chicken Pizza at California Pizza Kitchen, and after I read the recipe I pinned, I decided to dress it up, imitate what we love and hope for the best. Two bites in and my husband said this was so far his favorite Try It dish. Two days later he asked if we could have a Try It Tuesday Encore. Even my picky eater child loved the chicken and asked for it again.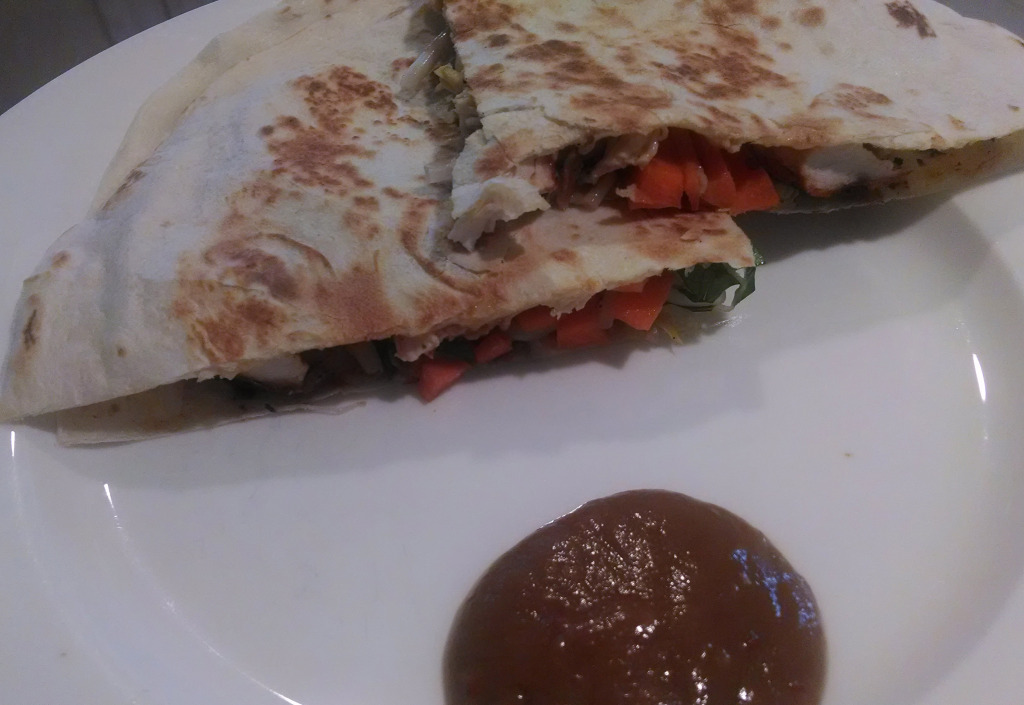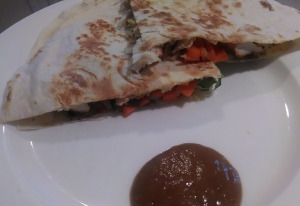 Thai Chicken Quesadillas with Peanut Dipping Sauce
2015-09-14 20:22:51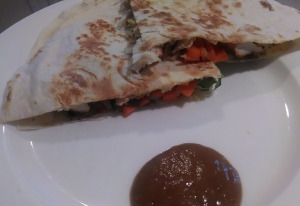 Ingredients
2-3 boneless, skinless chicken breasts
1/2 teaspoon Curry Powder
1/4 teaspoon Cumin Powder
1/4 teaspoon Ginger
1/4 teaspoon Garlic Powder
1 teaspoon Olive Oil
1/4 teaspoon Rice Wine Vinegar
Peanut Sauce (make your own or use store bought)
1 carrot julienned
Fresh Bean Sprouts
Cilantro – small bunch chopped
Green Onion – 1-2 chopped
Shredded Mexican Blend Cheese
Large Flour Tortillas
Instructions
Put the chicken in a plastic zip top bag. Add the curry powder, cumin powder, ginger, garlic powder, olive oil and rice wine vinegar. (Feel free to adjust the spices to your taste ). Zip the top and rub the bag to coat the chicken with the spice mixture and oil mixture. Let this marinate in the refrigerator for at least 30 minutes.
Grill the chicken until it is done (hubby used Hickory briquettes – adds a nice smoky taste to the chicken). When it is done, slice the chicken into bites size pieces.
Heat a large griddle or frying pan on high. On a side board, place one large tortilla add a layer of cheese (I used only a little so that it acted like the glue to hold the quesadilla together), chicken, carrots, cilantro, green onion, bean sprouts, and a few dabs of the peanut sauce, add another small bit of grated cheese and cover with your second tortilla.
Put in the frying pan and toast each side until golden and the cheese is nice and melted. Be careful when flipping it over as the bean sprouts and carrots like to escape!
Cut into fours and serve with a side of peanut sauce for dipping.
Try It Tuesday https://tryittuesday.com/