I have been thinking about a number of different titles for this blog post. Everything from Quinoa Catastrophe (which there was one) to Crazy about Quinoa. I finally settled on Queue the Quinoa.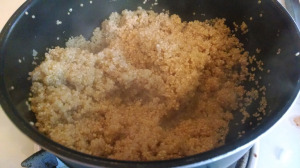 I have recently become obsessed with quinoa and also with orzo. Both totally different but both very versatile ingredients. Earlier this year my daughter had quinoa as part of earning a Girl Scout badge and liked it. We bought some and there it sat in my pantry, a testament to good intentions. When Try It Tuesday started using that bag of quinoa was first on my list. I made this tasty salad, Quinoa Avocado Spinach Power Salad from the Garden Grazer.
So where does the catastrophe come in you ask? I dared to repeat the salad when my mother in law was visiting. I had sent her a picture of it and bragged about how good it was. My attempt at making it for her visit was a catastrophe to say the least. I made the quinoa according to the package directions, water measurements, length of cooking time and as a result, I got a gloppy watered down mess. I chucked the whole thing. Luckily I had the first package still in the pantry (where it had a little bit left in the bottom of the bag). I read the instructions – which were different from the bag I had bought locally. I tried again, this time following the original directions and guess what?
I burned it.
Yep.
Totally inedible.
Was I a glutton for punishment? Did I dare try a third time or was it time to go to plan B? Would Murphy's Law rear it's ugly head?
The third time was a charm. I kept an eye on it the entire time it was cooking. The key to cooking quinoa – to 1 ¼ cups boiling water, add 1 cup rinsed quinoa. Turn down to a simmer for just about 12 minutes.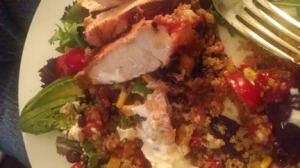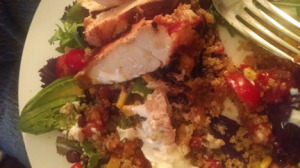 Southwest Quinoa (with optional Grilled Salsa Chicken)
2015-09-14 20:18:46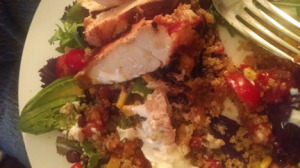 Ingredients
1 cup unprepared quinoa
Corn (2-3 ears, or about 1 cup of frozen Organic corn)
1 small can of Black beans, drained
¼ red bell pepper diced
Cherry Tomatoes
Avocado sliced
Sour cream for garnish
Mixed greens for base
1 cup Costco Mango salsa
Instructions
Prepare your quinoa by cooking quinoa - to 1 ¼ cups boiling water, add 1 cup rinsed quinoa. Turn down to a simmer for just about 12 minutes.
Add the diced bell pepper, corn, cherry tomatoes, black beans and toss. (NOTE: I actually did not toss mine together because hubby is not a fan of beans or corn)
Place chicken in a zip top bag, add a cup of salsa of your choice and let it marinate for at least 30 minutes. Grill until done. Let it rest 10 minutes and then slice it into strips.
On a plate, spread the mixed greens for a base, add your quinoa salad mix, top with sliced avocado, mango salsa, sliced chicken, and dollop of sour cream.
Notes
For optional Grilled Salsa Chicken
1 cup regular salsa
2-3 Boneless, skinless chicken breasts
Steve said the only thing that he would add is a few tortilla strips!
Try It Tuesday https://tryittuesday.com/