Last week I confessed on our facebook page that I failed Try it Tuesday.
My husband has been out of town, I had to be in 2 places at once, there were kids to chauffeur, homework to oversee, a meeting to attend, and a mysterious smell coming from the pantry.So I threw some potatoes in the microwave and called it good.
Wednesday came around and things were a bit slower. There was still homework, play dates, and that smell, actually it's still there but let's not talk about that… The point is, I had time to make a real meal!
Try it Tuesday is cool like that. The day you try something new isn't important.
It can be What's new Wednesday, or Something different Sunday, Make something Monday (I got a million of them…or 7).You get the idea.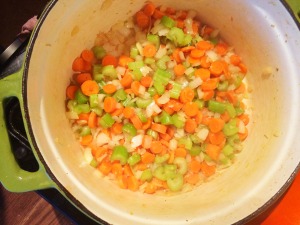 This Lemon Chicken Orzo Soup had been dancing around in my head. I love lemon pepper chicken so it just makes sense that lemon chicken soup is going to be a hit. Besides, things can't go wrong when a recipe starts with a mirepoix.
I loved it, my kids were on the fence. They're not huge soup fans in general *gasp!* so I don't let them judge soup recipes.
My mom hasn't been feeling too well so I took some of the leftovers to her. She raved and requested the recipe immediately.
It is the perfect balance of flavors and the hint of lemon is refreshing. This is going to be my go-to chicken soup henceforth.
My only advice is to double it.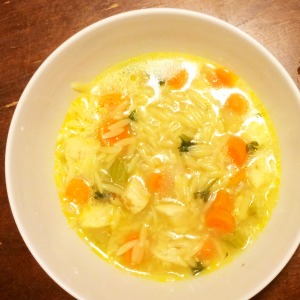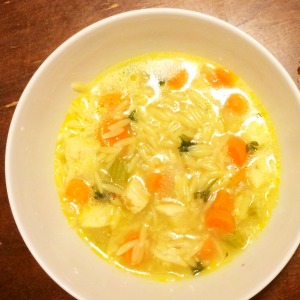 Lemon Chicken Soup
2015-09-14 20:15:52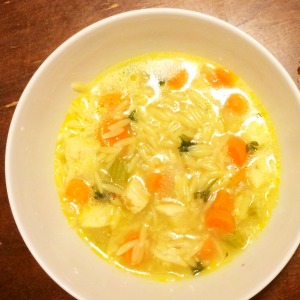 Ingredients
2 tablespoons olive oil, divided
1 pound boneless, skinless chicken thighs, cut into 1-inch chunks
Kosher salt and freshly ground black pepper
3 cloves garlic, minced
1 onion, diced
3 carrots, peeled and diced
2 stalks celery, diced
1/2 teaspoon dried thyme
5 cups chicken stock
2 bay leaves
3/4 cup uncooked orzo pasta
1 sprig rosemary
Juice of 1 lemon
2 tablespoons chopped fresh parsley leaves
Instructions
Heat 1 tablespoon olive oil in a large stockpot or Dutch oven over medium heat. Season chicken thighs with salt and pepper, to taste. Add chicken to the stockpot and cook until golden, about 2-3 minutes; set aside.
Add remaining 1 tablespoon oil to the stockpot. Stir in garlic, onion, carrots and celery. Cook, stirring occasionally, until tender, about 3-4 minutes. Stir in thyme until fragrant, about 1 minute.
Whisk in chicken stock, bay leaves and 1 cup water; bring to a boil. Stir in orzo, rosemary and chicken; reduce heat and simmer until orzo is tender, about 10-12 minutes. Stir in lemon juice and parsley; season with salt and pepper, to taste.
Serve immediately.
Adapted from Damn Delicious
Adapted from Damn Delicious
Try It Tuesday https://tryittuesday.com/