Family traditions play an important roll in life. A shared book, a comfy quilt, a story passed down from generation to generation.
My husband and I have been married for 12 and a half years. Every Christmas Eve my father-in-law has a tradition of making his family pizza recipe. I am not sure how far back this tradition goes, but for the past 12 years I have witnessed the time he and my mother-in-law put into preparing his pizza. Preparing the special crust, grating the cheese from a large block, chopping peppers and onions, and sorting a variety of other toppings into bowls (he always makes at least one with anchovies). It is a labor of love, a proud Italian man each year sharing his tradition with his family and friends. I hope one day he will pass down his recipe to our daughter so she too can carry on the tradition.
When our daughter insisted it was her turn to choose our Try it Tuesday dish and said she wanted homemade pizza, I immediately thought of my father-in-law and the hours of preparation to make his special pizza. (Granted he is making enough for about 15 people with extra for the neighbors and for Christmas Day) I spent the days leading up to Tuesday psyching myself out by how difficult this undertaking could be.
I pinned a couple of recipes on Pinterest and finally decided for my first time I would go simple on the toppings. I used Tastes of Lizzy T's crust and sauce recipe. I cut the sauce recipe in half which was perfect for two 16 inch pizzas and still have leftovers. And her crust recipe reminded me of one of our favorite hole in the wall pizza restaurants near Tahoe. I made two pizzas, Pepperoni and Pineapple (our daughters favorite) and Pepperoni, Mushroom, and Basil for my husband and I. I am looking forward to doing this again and getting even more creative with the toppings!
I also wanted to thank everyone for their comments on the best solution for cooking the pizza. I did buy a pizza stone which turned out very well (too bad I donated my Pampered Chef stones before our move to Utah).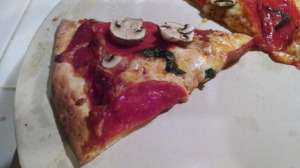 Perfect Pizza Crust
2015-09-14 20:09:39
Ingredients
1 1/3 cups warm water
2 teaspoons sugar
1 1/4 teaspoons salt
2 tablespoons olive oil
2 tablespoons cornmeal
3 cups bread flour
1 teaspoon baking powder
1/4 teaspoon garlic powder
1/4 teaspoon onion powder
2 teaspoons yeast
Instructions
Put warm water and yeast together in a bowl. Let it sit for 5 minutes or until the yeast has activated.
Add in the sugar, salt, olive oil, cornmeal, flour, baking powder, garlic powder, and onion powder. In your stand mixer, mix them with the paddle attachment just until combined.
Then put on the dough hook and knead for about 10 minutes.
Cover with plastic wrap and let rise in a warm place for 30 minutes or until doubled.
Then roll out and place in a pizza pan.
Add toppings of your choice.
Bake at 500 degrees for about 14 minutes.
Note
I really like Fleischmann's Pizza Crust Yeast if you can find it.
Adapted from Taste's of Lizzy T's
Try It Tuesday https://tryittuesday.com/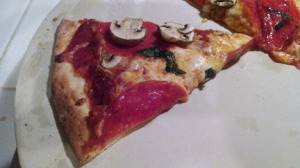 Perfect Pizza Sauce
2015-09-14 20:11:44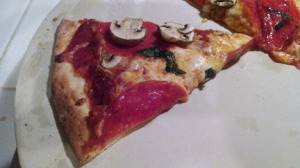 Ingredients
2 – 29 oz cans tomato puree
11/4 cup water
5 Tbsp. sugar
5 tsp. olive oil
1 1/2 tsp. lemon juice
1 1/2 tsp. salt
1 1/2 tsp. oregano
3/4 tsp. basil
3/4 tsp. thyme
3/4 tsp. garlic powder
Instructions
Mix all ingredients into a saucepan.
Turn stove on to medium heat until sauce starts to bubble.
Let simmer for 30 minutes.
Put it on your pizza or use it as a dip!
Note
I cut the recipe in half. It is more than enough for two pizza's and leftover to freeze.
Adapted from Taste's of Lizzy T's
Adapted from Taste's of Lizzy T's
Try It Tuesday https://tryittuesday.com/