The appliance in our house that gets the biggest work-out every week is our barbeque grill. If I kept track, I could easily say it gets used at least 4 days a week. Steve barbeques in just about any weather: the heat, in the snow, in the rain. He is always on the look-out for for new rubs to try.
Lately we have landed on one that is good on both pork tenderloin and chicken. It is spicy and sweet and delicious.
The first time we tried it, I used it on a pork tenderloin. The original recipe calls for grapeseed oil. I didn't have any so instantly went online to see if there was an oil I could use as a substitute. What I learned was that virgin olive oil can be substituted mainly because both have a similar high smoke point (420° F). Extra virgin olive oil (405° F), has a low smoke point in comparison. There is a long complicated explanation for why this can be important, but ultimately I the answer is this, I just used a little olive oil in its place.
The dry rub is super easy – just measure all the ingredients (except the oil) into a bowl and mix well. Brush the meat with olive oil and the rub the spice mixture evenly over the pork or chicken. Let it sit for about an hour before grilling. If you have more than one tenderloin be sure to double the recipe!
I served the pork with our favorite orzo recipe and quick stir fry green beans. The left-over pork was fabulous in quesadillas!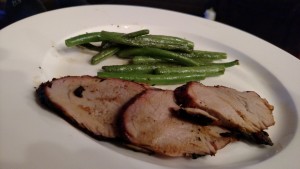 Brown Sugar Chili Pork Tenderloin
2015-12-23 11:50:35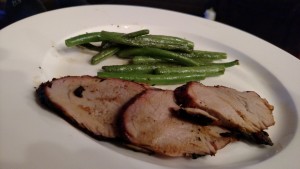 Ingredients
1 tablespoon brown sugar
1 tablespoon Chili powder
1/8 teaspoon ground Cinnamon
1 teaspoon smoked paprika
1 tablespoon grape seed oil
Pork tenderloin or chicken
Instructions
Mix dry ingredients in a bowl.
Brush Pork Tenderloin or chicken with oil.
Rub spice mixture evenly on the meat.
Let rest one hour if possible before grilling.
Grill Pork Tenderloin 20 minutes flipping once at 10 minutes. Internal temperature of Pork should be 160 degrees Fahrenheit.
Notes
Double the recipe for more than one pork tenderloin
Try It Tuesday https://tryittuesday.com/