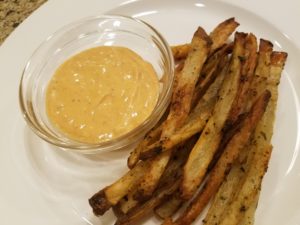 Do you have a favorite fast food french fry? One that when you think about it you can pretty much imagine what it tastes like? I feel that way about In-and-Out French Fries. I know, I know, most of you are probably rolling your eyes right about now. What is so special about In-and-Out French Fries? Maybe because they are cut fresh and fried in 100% vegetable oil?
I have some other favorite french fries that make my list. The next, unfortunately, don't exist anymore. For those of you who went to college with me remember a little drive-in just down the street from the dorm, called Leo's Campus Drive-In. They served what they called "the pounder" with fry sauce. We used to go down there for a study break and get milkshakes and share "the pounder". When I think back, they weren't anything super special, just your run of the mill crinkle fries. Maybe it was the sauce we dipped them in or just the sprinkle of salt.
My next favorite fries have to be the Gordon Biersch Garlic Fries at the Raley Field in West Sacramento. I think there is absolutely nothing like sitting at a ballpark on a warm summer afternoon eating a hotdog and garlic fries and watching a baseball game. I've had garlic fries at other venues, but for some reason, I think ones at the Raley Field are the best.
Recently I got tired of making store bought fries to go with our dinner. I don't deep fry them, so I was looking for something that would make good, crispy fries without the fat of the fryer. I found a recipe online and adjusted it to what you see below.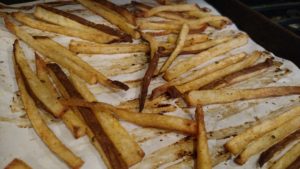 Oven Roasted French Fries
2016-09-26 17:26:20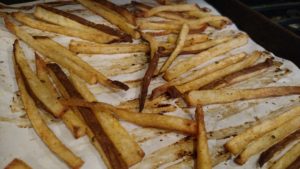 Ingredients
1/2 teaspoon sea salt
1 teaspoon dried parsley
1 teaspoon chili powder
1 teaspoon dried basil
1/8 teaspoon cumin
1/8 teaspoon black pepper
1/8 teaspoon paprika
3 medium russet potatoes (russet are the best choice for perfect crispy fries)
1-2 Tablespoons olive oil
Instructions
Combine seasoning ingredients in a small bowl; set aside.
Wash the potatoes (peel if you prefer). Cut the potatoes into thin slices about 1/4 inch wide.
Add the fries to a large bowl and cover with cold water. Allow them to soak for at least 30 minutes but they can soak for as long as overnight. (Place in the fridge if soaking more than an hour).
After the fries have soaked, drain, rinse, and lay the fries on a paper towel lined cooling rack to dry while you preheat the oven to 400 degrees. Blot the tops with additional paper towels to absorb any excess moisture.
Line a baking pan with parchment paper or foil and spray with non-stick spray. Make sure the previously used bowl is dry and add the potatoes to it, add 1-2 tablespoons of oil and 1/2 – 1 Tablespoon of the seasoning mixture based on how much salt you prefer. Toss around to mix.
Evenly line the baking pan with the fries in a single layer. Don't overlap or they fries won't cook properly. Bake for about 30 minutes, flipping with a spatula once or twice after 15 minutes of cooking. Increase heat to 425 degrees and continue baking until the edges look a little burnt!
Sprinkle the fries with the other half of the seasoning mix and Parmesan cheese (optional). Serve immediately.
Try It Tuesday https://tryittuesday.com/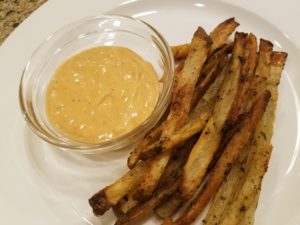 Cajun Remoulade Dipping sauce
2016-09-26 17:18:05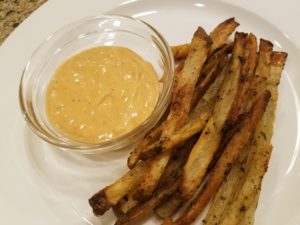 Ingredients
1/2 cup Thousand Island dressing
1/4 cup mayonnaise
1/2 teaspoon miced garlic
1/4 teaspoon Dijon-style mustard
1/2 teaspoon Worcestershire sauce
1/4 teaspoon Old Bay seasoning
Dash of paprika
Dash of lemon juice
Instructions
Add ingredients to a bowl.
Mix well together with a whisk.
Refrigerate at least 1 hour before serving.
Notes
This dipping sauce would be fantastic on hamburgers or a dipping sauce for homemade chicken fingers.
Try It Tuesday https://tryittuesday.com/