Guest Post: Shanna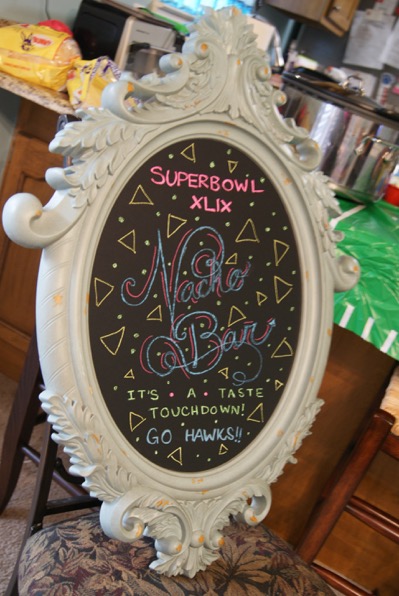 I grew up in the deep South and now live here again after 11 years of following my husband and the Army around. In the South, the vast majority of us love football. I did not say "all"; calm down, basketball fans. Many of us live and die for football season. Even if you don't particularly love watching it, you have a team that you root for and will tell everyone that you love (and you probably even own a shirt or two). I think aligning yourself with a team may be a residency requirement, to be honest.
I happen to like watching football AND cheering for it (War Eagle!), but only college football. Once the players are being paid cash money, I can't seem to get very excited about it. So, you can imagine my dilemma when it comes to the Superbowl: It's a big game day (yay)! It's NFL (meh). However, one thing I CAN get excited about is football food, no matter who's playing. The junk that you eat while you cheer on- or pretend to cheer on- the team you love. So, I picked a team to get behind- the Seattle Seahawks, because…reasons- and planned the ultimate nacho bar.
This is a great setup for any party- especially for a more casual setting with kids and teens. Or when you just really, really, really want nachos for hours. Crockpots are your friends. They keep the food warm and let you enjoy the game or the company. I used my large (7qt) Crockpot for the meat and my triple dipper (which warms three 16oz dips at once) for my setup, but, looking back, I could have also used my regular-sized (2.5qt) Crockpot for the bean dip.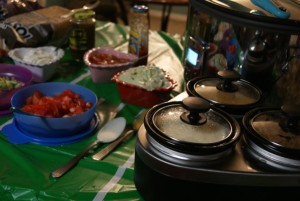 Here's the lineup for the game:
Tortilla Chips- I bought 3 kinds: Scoops, Rolls, and the weird Artisan ones my husband likes.
3 lbs ground seasoned beef
White cheese dip
Queso Dip
Bean Dip (recipe follows)
Toppings
To make my life a little easier, I bought a 9 foot football-themed tablecloth and placed it over my bar. The meat was cooked with a diced onion, drained, and seasoned with my preferred taco seasoning, then placed in the Crockpot on warm until everything else was ready. To prevent it from drying out, I also put a bit or water in. For my dips, I used purchased my white cheese dip and made queso dip (the Velveeta plus Ro-Tel kind)- in my third dipper, I heated my refried beans.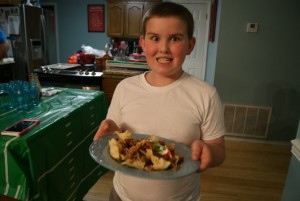 Bean Dip
2015-09-14 18:46:24
Ingredients
Refried Beans (2 cans, 16 oz each)
Cream Cheese (8 oz, softened)
Sour Cream (1 cup)
Taco Seasoning (2 tablespoons, +/-)
Garlic Powder (1 teaspoon; you may also sub VERY finely diced garlic)
Onion Powder (1 teaspoon; you may also sub grated onion)
Shredded Cheese (2 cups, I used Sargento Mexican Blend)
Oven Directions
Preheat oven to 350.
Mix together all ingredients except the cheese (I used my Kitchenaid with the paddle attachment for this) and spoon into a 9×13 baking pan.
Top with shredded cheese.
Bake 25-30 minutes, or until cheese is completely melted.
Slow Cooker directions
Mix together all ingredients except the cheese (I used my Kitchenaid with the paddle attachment for this.)and spoon half into Slow Cooker.
Top with half of the shredded cheese, then the other half of the bean dip mixture, and then the rest of the shredded cheese.
Cook on low for 4 hours.
Try It Tuesday https://tryittuesday.com/
Guacamole/Avocado Dip
2015-09-14 18:48:56
Ingredients
Avocados (2; halved, seeded, scooped, and mashed in a large bowl)
Sour Cream (1.5 cups)
Cumin (1 teaspoon)
Chunky Salsa (3/4 cup, drained) OR Ro-Tel (1 can, drained)
Chopped tomato (1 small tomato, 1/2 cup +/-)
Salt/Pepper to taste
Cilantro (for garnish, completely optional. I think cilantro tastes like soap)
Instructions
In a small bowl, mix together sour cream and cumin.
Fold sour cream mixture and salsa/Ro-Tel into avocados gently. Add in chopped tomatoes, season with salt and pepper.
Cover and refrigerate for 1 hour. If garnishing with cilantro, do so after removing from the fridge.
Notes
NOTE: If making more than an hour or so ahead of time, squeeze some fresh lime juice and place one of the avocado pits on top before refrigerating.
Try It Tuesday https://tryittuesday.com/