I have a problem. I love mushrooms. No one else in my immediate family enjoys them as much as I do.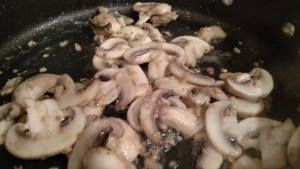 Raw mushrooms, sauteed mushrooms, stuffed mushrooms, stir fry mushrooms.
I have been on a kick lately to find new side dishes to make. So when I came across this recipe from www.juliasalbum.com I just had to try it. I read the recipe to my husband and asked him if he was willing to try it, even though he is not a huge fan of mushrooms. When he said yes, I didn't wait….(ok truth was I had the ingredients already and I was making it anyway).
We served it with grilled chicken seasoned with lemon pepper. For lunch the next day, I sliced leftover chicken and had it over the leftover quinoa. It was even better the second day!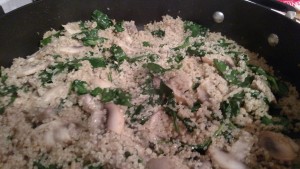 So here it is, the recipe I teased you with last week…..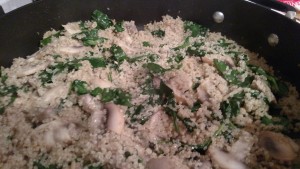 Spinach Mushroom Quinoa
2015-09-14 18:53:20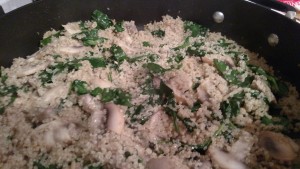 Ingredients
1 pound mushrooms (white or cremini), sliced thinly
3 garlic cloves, minced
1 tablespoon unsalted butter (omit butter for vegan version)
1 tablespoon olive oil
5 green onions, chopped
5 to 10 ounces fresh spinach (to taste)
2 cups cooked quinoa
1 tablespoon olive oil (optional)
Salt
Instructions
Heat butter and olive oil in a large skillet over medium-high heat. Add mushrooms and garlic and saute over medium-high heat for about 5 minutes until mushrooms get soft and acquire a nice, golden-brown color. Add chopped green onions and mix. Season with salt.
Add fresh spinach to the skillet, reduce heat to low, cover the skillet with the lid and let mushrooms and spinach cook for about 1 minute or less, just until spinach begins to wilt. Add 2 cups of cooked quinoa to the skillet and cook on low heat for another minute until spinach wilts even more and quinoa warms up. Season with salt, if needed. Add another tablespoon of olive oil, if desired.
Adapted from Julia's Album
Try It Tuesday https://tryittuesday.com/