When you move a long distance weight plays a big factor in what you are charged by the moving company. Two years ago, we moved 800 miles, across three states from near Salt Lake City to just outside Seattle.
I purged my pantry (much to the benefit of my friends). I will never forget the text I received from Maria after going through want I gave to her: "What do I do with four jars of hoisin sauce???" I feel the need to explain it was a specific brand of hoisin sauce that was hard to come by in Utah. When we found it we stocked up.
Hoisin Sauce, for those of you who have never had it, is a slightly sweet Asian sauce made from soy sauce, honey or molasses, sesame oil, black bean paste, and spices. It is very versatile and we use it for a number of different recipes. One of these days I will try to make it homemade.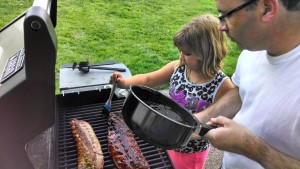 Our favorite hoisin recipe is Hoisin Baby Back Ribs from Weber's Art of the Grill cookbook. I stay out of the kitchen when ribs are on the menu. Steve and Elizabeth have a system down to make the basting sauce and getting them on the grill. (A side note: If you are in Utah we found Snider Brothers Meats has the best pork baby back ribs. In Washington, the best ones we have had are from QVC). The recipe for these ribs is below.
Another great recipe I like to make is sort of a take on Pad Thai, Hoisin Pork Noodles. I have really fallen in love with Pad Thai and was looking for a recipe I could convince our daughter to eat. I stumbled across this one and knowing she loves the hoisin ribs, I figured this was not a bad option. I have, of course, modified the recipe.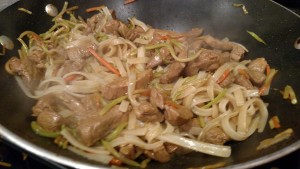 It's pretty simple, combine the sauce ingredients (soy sauce, water, hoisin sauce, siracha, sesame oil, olive oil, garlic, ginger, and honey), whisk it together, and pour it over a pork tenderloin you and sliced into strips. Let this marinade for at least 30 minutes.
Prepare rice noodles according to the package instructions (usually this involves boiling water, then putting the noddles in it to sit for 10 minutes). Drain and set aside.
In a hot wok add a little peanut oil (or olive oil) and stir fry the pork until done. Then add the broccoli slaw and stir fry a little longer. Add the prepared rice noodles, stir to incorporate. I like using tongs to mix it together. Serve in a bowl garnished with cilantro and chopped peanuts. If you have bean sprouts you can add them as well!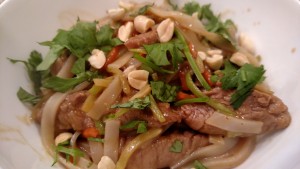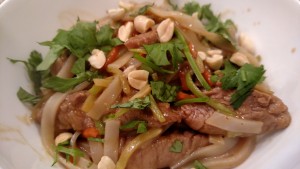 Hoisin Pork Noodles
2015-10-25 14:08:17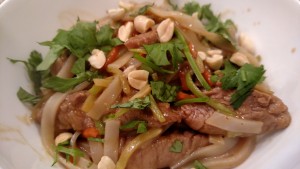 Ingredients
1/3 cup soy sauce
¼ cup water
1 tablespoon sesame oil
2 tablespoons olive oil
1-2 spirals around the bowl of siracha
1 tablespoon ground ginger
3 tablespoons Hoisin sauce
2 tablespoons of Honey
1 clove of garlic finely minced
1-2 tablespoons peanut oil or olive oil for cooking pork
1 small pork tenderloin cut into small even strips
1 package of broccoli carrot slaw
½ package of Thai style rice noodles
Sliced mushrooms (optional)
Chopped cilantro and chopped peanuts for garnish (optional)
Bean sprouts (optional)
Instructions
Whisk together soy sauce, water, sesame oil, olive oil, siracha, ginger, hoisin sauce, honey and garlic. Pour over pork tenderloin. Marinate in the refrigerator 30 minutes or overnight.
Prepare rice noodles according to package instructions.
In a hot wok, pour the peanut oil and let it get hot. Add the pork tenderloin and marinade into the wok, cooking until pork is done. Add the broccoli slaw and mushrooms and stir fry until warm through. Add prepared rice noodles and toss to mix. Remove from heat.
Serve in a bowl garnished with cilantro, peanuts and bean sprouts.
Try It Tuesday https://tryittuesday.com/
Hoisin-Glazed Baby Back Ribs
2015-10-25 14:11:30
Ingredients
1 cup hoisin sauce
¼ cup honey
¼ cup red wine vinegar
2 tablespoons grated peeled, fresh ginger
1 tablespoon minced garlic
1 tablespoon toasted sesame oil
2 teaspoons curry powder
3 racks baby back ribs, each about 2 pounds
Kosher salt
Freshly ground black pepper
Instructions
In a small saucepan over medium heat, combine the glaze ingredients. Bring to a simmer, stirring occasionally, and cook over low heat for 2 to 3 minutes to blend the flavors. Remove from the heat.
Remove the thin membrane from the back of each rack of ribs. Liberally season all over with salt and pepper. Allow the ribs to stand at room temperature for 15 to 30 minutes before grilling.
Prepare the grill for indirect cooking over low heat (250° to 350°F).
Brush the cooking grates clean. Grill the ribs over indirect low heat, with the lid closed, until the meat is very tender and has shrunk back from the ends of the bones, 1½ to 2 hours. About 15 minutes before the ribs are done, begin brushing them with the glaze on both sides occasionally.
Transfer the ribs to a sheet pan and tightly cover with aluminum foil. Let rest for 30 minutes. Sprinkle the ribs with the sesame seeds.
Notes
The Weber recipe calls for sprinkling them with sesame seeds. We have only done this once and never again because we didn't care for it.
Try It Tuesday https://tryittuesday.com/