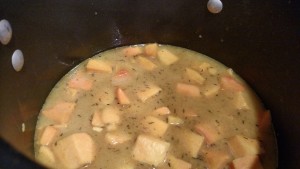 About four years ago this month, we had a girls weekend at a cabin at Lake Tahoe. The cabin belonged to my friend Erin's uncle. The same weekend, the guys went to Graeagle for a guys weekend. That weekend is forever etched in my memory as we girls drank beer and played pool and the guys drank beer and watched TV. I will also never forget it because there was an earthquake that same day in Graeagle.
During our girls weekend, we each took turns for meals. For dinner we had panini's and Denise brought this delicious Butternut Squash Bisque. It is now my go to "Feels like Fall" meal.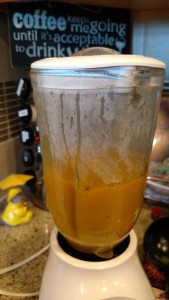 The Bisque is pretty easy to make. I cheat a little bit and buy peeled and cut butternut squash. One time peeling a squash was enough for me.
The original recipe is from Martha Stewart. I however add curry. I also use low fat milk instead of half and half.
In a large stockpot, melt the butter add a medium chopped onion and the cinnamon, thyme, garlic, cayenne pepper, salt, and curry. Saute until the onion is soft. Add the squash, chicken stock, milk, and water. Bring to a boil then let it simmer for 20 minutes until the squash has softened.
Working in batches, blend mixture in a blender until smooth. Stir in the lemon juice. Return to the pot be sure to warm it up.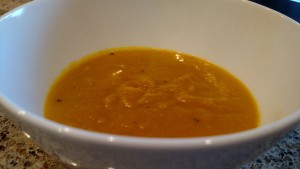 Optional: Serve garnished with a small dollop of sour cream.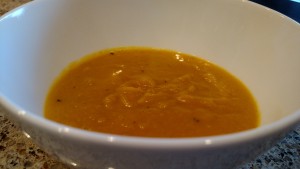 Butternut Squash Bisque
2015-09-27 19:32:19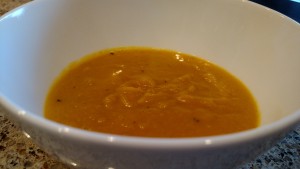 Ingredients
3 tablespoons butter
1 medium onion chopped
2 garlic cloves, chopped
1/2 teaspoon dried thyme
1/4 teaspoon ground cinnamon
1/4 teaspoon cayenne pepper
1/2 to 1 teaspoon curry
Coarse salt
1 large butternut squash (about 4 pounds) peeled, seeded, and cut into 1 inch pieces
1 can (14 1/2 ounces) reduced sodium chicken broth (substitute vegetable broth to make this dish vegetarian)
1 cup low fat milk (or half and half)
1 tablespoon fresh lemon juice
Sour cream for garnish
Instructions
In a large saucepan, heat butter over medium heat. Add onion, thyme, cinnamon, cayenne, and curry. Season with salt, and cook, stirring occasionally, until onion is softened, about 5 to 7 minutes.
Add squash, milk, and 3 cups of water. Bring to a boil. Reduce to a simmer and coat until Squash is tender about 20 minutes.
Working in batches, puree in a blender until smooth. Stir in lemon juice; season with salt.
Serve Bisque with sour cream, garnishes with cayenne if desired.
Adapted from Martha Stewart
Adapted from Martha Stewart
Try It Tuesday https://tryittuesday.com/