About a month ago our friends Martin and Denise Marshall came to visit from Portland. Our daughter was at horse camp and we made the best of it by doing a little bar hopping and ending the evening with dinner at the Dog and Pony Alehouse in Renton, WA. What drew us there was I had heard they had good IPA beer on tap and they had also appeared in an episode of Restaurant Impossible.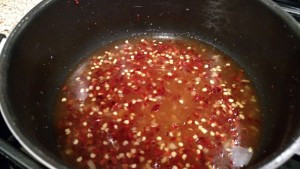 The food was great (best mozzarella sticks ever). I ordered their taco salad with beer braised chicken and sweet chili dressing. I ordered the dressing on the side because I wasn't sure I would like it. Wow! it was fantastic. Thus of course began a search for a recipe for Thai Sweet Chili Dressing.
Fast forward to Thursday night this week. I needed a idea for dinner and remembered pinning recipes for the Thai Sweet Chili Sauce. As I was scrolling through my Pinterest recipe board, I noticed I had also pinned one for Sweet Chili Salmon – the light bulb went off in my head. Steve and I love salmon. I was able to pick up a decent piece at the supermarket (I prefer to go to the fish market but I wasn't driving all the way to Issaquah or to Pike).
I would make a few modifications to the sauce, it was a little overboard on the heat for my taste – maybe use the half the red pepper flake. Although once I put used it in the Sweet Chili Salmon recipe it cut the heat.
Sweet and Spicy Thai Chili Sauce
2015-09-20 10:44:34
Ingredients
3/4 cup of sugar
1/2 cup rice vinegar
1/4 cup of water
1 tbsp finely minced garlic
1 tbsp crushed red pepper flakes
1 tbsp or less Siracha/ Hot sauce (optional)
1 tbsp of cornstarch
1 tbsp of cold water (to dissolve the cornstarch)
1/2 tbsp fish sauce (or 1/2 tsp salt if you don't have any)
Instructions
Start with 3/4 cup of sugar in a small sauce pan.
Add the rice vinegar and water to the sugar and turn the heat to a medium high. Bring the sugar solution to a boil while stirring, until the all the sugar is dissolved.
Add the finely minced garlic and crushed red pepper.
For some extra heat and color you can add some siracha or hot sauce to it. I like it to have a little zip to it after the initial sweet flavor. Let the sauce simmer bubble for a few minutes until it thickens slightly and all the flavors blend in.
In the meantime, dissolve 1 tablespoon of corn startch in a tablespoon of cold water until there are no lumps in it.
Turn the heat up to a rapid bubble and pour in the cornstarch slurry in the sauce and stir it well.
You'll notice the sauce thicken faster and you can turn the heat down again. Lastly, add 1/2 tbsp of fish sauce for some saltiness or a 1/2 tsp of regular salt and stir it in. Turn off the heat and let the sauce cool down.
Serve as a dipping sauce, or toss a couple tablespoons in a stir fry for sweet and spicy dish! Bottled or in an air-tight container this sauce lasts a long time in the fridge
Notes
Note: I would probably cut the amount of red pepper and Siracha. It was a bit too spicy for my taste.
Adapted from Picture the Recipe
Try It Tuesday https://tryittuesday.com/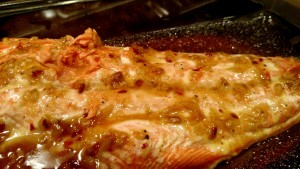 Sweet Chili Salmon
2015-09-20 10:49:30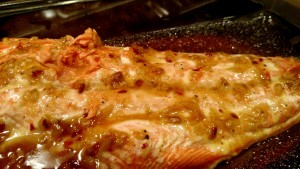 Ingredients
3 tablespoons Thai sweet chili sauce
1 tablespoon soy sauce
1/2 teaspoon sesame oil
2 garlic cloves, minced
1/2 tablespoon ginger, grated
1/4 teaspoon of black pepper
2 salmon fillets
Instructions
1. In a small bowl, mix the chili sauce, soy sauce, sesame oil, one garlic clove, ginger and pepper.
2. Place salmon in a shallow glass baking dish, and coat with the chili mixture. Cover the dish, and marinate salmon in the refrigerator 30 minutes, turning once.
3. Preheat oven to 400 F.
4. Place the baking dish in the preheated oven, and bake salmon uncovered 20 minutes, or until easily flaked with a fork
Adapted from Dragon's Kitchen
Try It Tuesday https://tryittuesday.com/