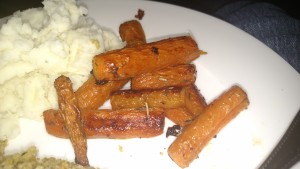 We were looking for a quick side dish the other day and I saw a recipe on Pinterest for Roasted Garlic Carrots. Wouldn't you know it, I didn't have all the ingredients so I do what I do a lot. Improvised!
This one is super easy. Preheat your oven to 400. Place all the ingredients in a bowl with the carrots. Toss until the carrots are covered and then place it on a roasting pan. Roast until tender and golden, about 15 to 20 minutes.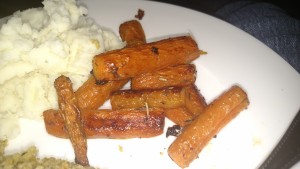 Roasted Garlic Carrots
2016-01-09 15:50:14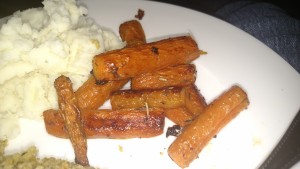 Ingredients
8-10 organic carrots unpeeled, cut into about 24 chunks
2 tablespoons olive oil
1 teaspoon thyme
½ teaspoon dried rosemary
3-4 grinds fresh pepper
1/8 teaspoon sea salt
2 cloves of fresh chopped garlic
Instructions
Preheat oven to 400.
Put all ingredients in a bowl and toss to cover. Spread evenly on a roasting sheet. Roast for approximately 15-20 minutes until carrots are tender, turning the carrots over about ½ way through the time.
Notes
I keep a jar of Christopher Ranch chopped garlic in my refrigerator for the occasions when a recipe calls for chopped garlic and I don't have any on hand.
Try It Tuesday https://tryittuesday.com/