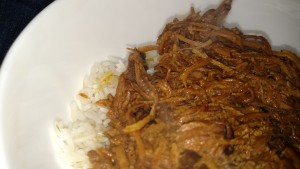 Now that we are back to our regular schedule after the holidays, I try to use my slow cooker at least once per week. When we are not getting back to the house some nights until after 7, having a meal that is ready to go is absolutely ideal.
This week we tried Slow Cooker Bourbon Chicken. It was a little on the sweet side, but still quite tasty. Plus all I had to do was make some rice when we got home.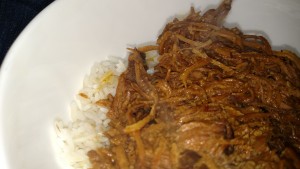 Slow Cooker Bourbon Chicken
2016-01-09 16:06:19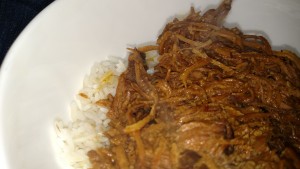 Ingredients
3 lbs boneless skinless chicken breast
1 tablespoons corn starch plus 1 tablespoon of water
1 clove garlic
Sauce
1/2 teaspoon fresh grated ginger
4 cloves garlic, minced
1/4 teaspoon chili flakes
1/3 cup apple juice
2 tablespoons honey
1/4 cup brown sugar
1/4 cup ketchup
3 tablespoons cider vinegar
1/4 cup water
1/4 cup Bourbon
1/4 cup soy sauce
Instructions
Mix all sauce ingredients in a small bowl.
Place chicken in slow cooker, pour sauce over top. Cover and cook on low 6-7 hours or on high 3 hours.
Remove chicken and chop into bite sized pieces or shred. Return to the slow cooker.
In a small bowl combine 1 tablespoon water with 1 tablespoon cornstarch. Stir until thickened. Add to the sauce in the crock pot and stir. Allow to cook another 10 minutes until sauce has thickened up some (you may need to increase the amount of cornstarch depending on how much chicken you cook).
Serve over rice.
Notes
Optional: green onions for garnish
Notes: The original recipe called for chicken thighs. I used chicken breasts. I buy the frozen bag from Costco and take out how many I want to cook and put them straight into the slow cooker. The original recipe called for 1/2 teaspoon of red pepper flake. I cut it in half!
The chicken I made was very tender, I ended up pulling it apart rather than chopping it into bite size pieces.
Adapted from Spend With Pennies
Try It Tuesday https://tryittuesday.com/