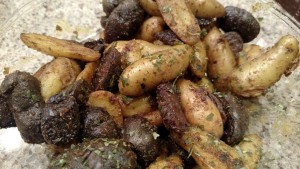 Steve brought home a piece of Ahi Tuna the other day from the fish market in Issaquah. If you are in the Seattle area and looking for a great place to get fresh fish, be sure to check out Gemini Fish Market.
Now that I've told you that, today's post isn't about fish it's about what to serve with it (okay, here's a hint, we used the marinade for the tuna that was from our very first Try it Tuesday blog post).
The only thing I had in the refrigerator was a bag of fingerling potatoes I had picked up the other day to go with a pork tenderloin recipe I was considering making. I decided to do something with them to go with the tuna.
I figured curry would probably be a good accompaniment with the Asian flair of the marinade we use on the tuna. I went to Pinterest and searched curry and potatoes. Most of what came up were recipes for actual potato curry or recipes that had ingredients that I just did not have in our pantry. So once again, improvisation was the name of the game.
Curried Fingerling Potatoes
2016-01-09 16:35:18
Ingredients
1 1/2 pounds of fingerling potatoes
2 tablespoons olive oil
2 teaspoons cumin
2 teaspoons sweet curry powder (Penzeys)
Pinch of sea salt
2 - 3 grinds of black pepper
1-2 tablespoons of fresh chopped cilantro
Instructions
Boil potatoes in water 20-30 minutes until tender. Drain.
On a cutting board cut the potatoes in half.
In a frying pan, on medium-high heat the olive oil. Add the cumin and curry powder, stir and saute for approximately 1 minute.
Add the potatoes to the frying pan with the spice mixture. Season with salt and pepper.
Saute until golden.
Sprinkle with fresh cilantro and serve.
Try It Tuesday https://tryittuesday.com/