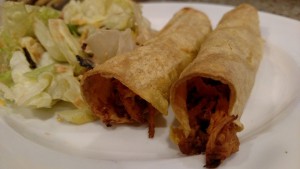 One of the fun things about Try it Tuesday is taking a chance to turn one of our quick store bought meals into a homemade meal. We almost always have taquitos in our freezer. Not only are they a good appetizer, but add some salad and salsa and you have a quick dinner.
I always wondered if I could make these at home. When I started looking at recipes, I found a lot of them had cream cheese in the recipe. Our daughter is not fond of cream cheese and Steve doesn't care much for it either. I also did not want a recipe I had to fry. I came across this one from Just a Taste blog. It was quick and easy and get this – it's gluten free!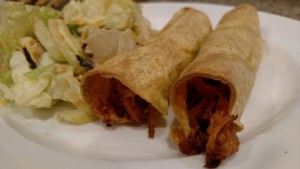 Baked Chicken Taquitos
2016-02-07 14:56:36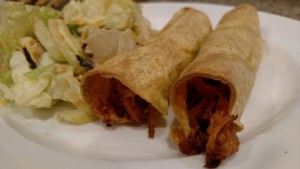 Ingredients
3 Tablespoons olive oil
1 cup diced onion
2 cloves garlic, minced
2 Tablespoons fresh lime juice
1 1/2 teaspoons cumin
1 1/2 teaspoons paprika
1/2 teaspoon salt
1/4 teaspoon fresh black pepper
3 cups shredded rotisserie chicken
1 cup shredded cheddar or Mexican blend cheese
1 1/2 cups chicken broth
12 corn tortillas
Guacamole, for serving
Salsa, for serving
Instructions
Preheat the oven to 425ºF and line a baking sheet with parchment paper.
In a large pan, heat the olive oil over medium heat. Add the diced onion and cook until it's translucent, 3 to 5 minutes. Add the garlic, and cook, stirring occasionally, for about 3 minutes until it's golden and fragrant.
Reduce the heat to low, and then add the lime juice, cumin, paprika, salt and black pepper to the pan, stirring to combine. Add the shredded chicken, tossing to combine.
Transfer the chicken mixture to a large bowl and let it cool for 10 minutes, and then stir in the shredded cheese.
In a medium saucepan over medium heat, bring the chicken broth to a simmer. One at a time, dip each tortilla into the broth for 10 to 15 seconds, just until it's pliable enough to roll. Transfer the tortilla to your work surface and place about 3 tablespoons of the chicken mixture on the lower third of each tortilla. Tightly roll up the tortilla, and then place it seam-side down on the prepared baking sheet. Repeat the filling and rolling process with the remaining tortillas.
Bake the taquitos for 15 to 20 minutes until golden brown and crispy. Serve with guacamole and salsa.
Notes
Instead of Rotisserie Chicken, I put my chicken in the slow cooker in the morning. Covered it with water and seasoned it with garlic powder, chili powder, thyme, and a bay leaf. I let it cook all day. I then shredded it for the Taquitos.
I used the broth from the slow cooker to soften the tortillas.
I cut the amount of cheese in half.
We served the taquitos with the Mango Salsa from Costco (Fabulous!)
If you prefer, you could use flour tortillas.
Try It Tuesday https://tryittuesday.com/