Life has been pretty hectic lately, with Girl Scout Cookies, shuttling our daughter to troop meetings and horseback riding lessons, going to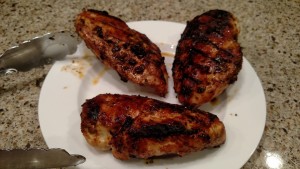 work, book club, and eking out time to work on my novel we find ourselves heading back into that food rut that got us started here on Try it Tuesday. I still pin recipes a lot in hopes planning weekly meals, but so often I find myself suddenly during the day realizing a) I have taken nothing out to thaw or b) I never went to the grocery store. So suddenly we are desperately throwing together a quick dinner that satisfies everyone's taste buds.
Last week in just such a situation, I decided to pull out the Chipotle Chicken Bowl copycat recipe. If you are a fan of the quick, Mexican taqueria style food, you will love this easy recipe. I changed up the seasoning on the chicken this time, as I was inspired by the Chipotle Ranch Burrito from Don Quixote's Mexican Grill in Rocklin, CA (if you haven't had their food and are in the Sacramento area, check it out).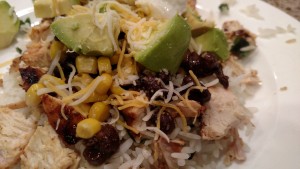 Marinate the chicken for 2-3 hours or longer in the following seasoning: Chipotle Chili powder, olive oil, fresh chopped garlic, fresh ground pepper, and oregano. Grill it on the barbecue until done. Let it rest then chop it up.
Fix cilantro rice, heat your choice of beans (I generally have pinto and black), chop avocado, corn, salsa and other toppings of your choice. Let your family assemble their bowls with their choice of toppings. It's easy and fun!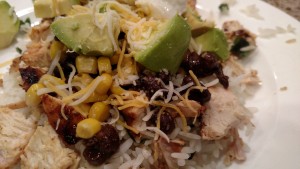 Chipotle Chicken Bowl
2016-03-06 11:59:33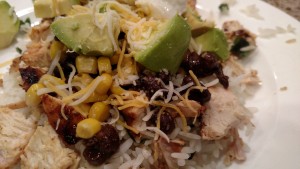 Ingredients
3-4 boneless, skinless chicken breasts
1/4 cup olive oil
1 Tablespoon dried oregano
1 1/2 teaspoons Chipotle chili powder
4-5 grinds of fresh ground pepper
2 cloves garlic, chopped or mined
Rice
Fresh Cilantro, chopped
Toppings
Pinto or Black Beans
Avocado
Fire Roasted Corn
Sour Cream
Shredded Cheese
Salsa
Lettuce
Instructions
In a small bowl, whisk together olive oil, oregano, chipotle chili powder, pepper, and garlic. Pour over chicken and allow to marinate two to three hours.
On a medium hot grill, sear the chicken then allow to cook until done. Approximately 8-10 minutes per side. Remove from grill and allow to rest. Cut into bite size cubes.
Make a side of cilantro rice.
Let everyone assemble their own bowl with the toppings of their choice!
Notes
Full disclosure: I admit to cheating on the rice. I use the Uncle Ben's boil in the bag rice that can be done in 10 minutes in the microwave. I then add fresh chopped cilantro and, if I have fresh limes, a touch of lime juice.
Try It Tuesday https://tryittuesday.com/