Moving to the PNW has provided us with a staggering number of new restaurants to try. Our friends, who also recently moved to Seattle, introduced us to Purple Café and Wine Bar. Not only do they have an extensive wine list, but they also have a menu with selections to tempt any palate.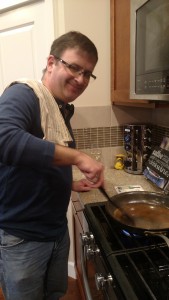 Besides the Roasted Beets and Goat Cheese salad (made with baby spinach, roasted beets, orange segments, Laura Chenel chèvre, toasted pistachios and orange-balsamic vinaigrette) and the Fried Calamari (I'm still looking for a Moroccan Tomato Aioli recipe if anyone has one) one of my favorite dishes on their menu is the Pan Roasted Free-Range Chicken Marsala. The Marsala mushroom wine sauce is luscious and tender chicken tantalizes your taste buds. The dish is served over a bed of fluffy mashed potatoes and a seasonal vegetable. Every time I order this dish, I can't eat dessert (their Sea Salt Caramels to-go should not be missed) because I can't stop eating the chicken.
I had mentioned to Steve that I wanted to try to replicate the dish at home. He was hesitant (for those of you who know my husband, know he doesn't eat mushrooms). I went so far as to buy mushrooms and hint that I wanted to try it.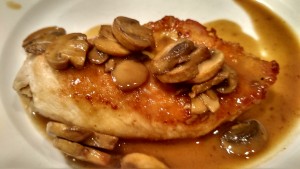 The next thing I knew, Steve googled a recipe, went to the store and bought a good bottle of Marsala wine (Cantine Pellegrino 1880 Marsala Superiore S.O.M.) and made Robert Irvine's Chicken Marsala recipe. He did make a few alterations. The recipe called for Grape Seed Oil, he used olive oil. We only had chicken stock, so he substituted that for the veal or beef stock. And last, the recipe called for an entire stick of butter in the sauce. He cut the butter in half and to be honest, I couldn't tell the difference. We served the Chicken Marsala with salad and mashed potatoes.
Granted neither Steve nor our DD ate the mushrooms (more for me!), but both enjoyed the dish. Definitely a recipe to add to our favorites.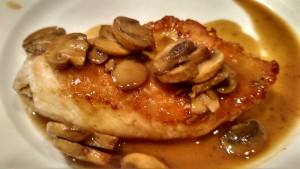 Robert Irvine's Chicken Marsala
2016-03-19 11:30:37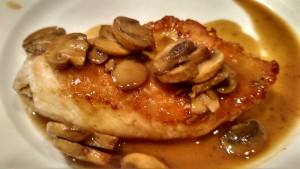 Ingredients
1 cup all-purpose flour
Salt and freshly ground black pepper
1 1/2 pounds chicken breasts
Grapeseed oil, for cooking
3/4 cup Marsala wine
1 cup veal or beef stock
4 ounces (1 stick) butter
1/2 cup 1/4-inch-thick sliced mushrooms
Fresh herbs such as chives or grated cheese, for garnish, optional
Instructions
To prepare the chicken, season the flour with salt and pepper. Slice the chicken breasts to 1/4-inch-thick medallions. Coat with the flour and tap off any excess.
Next, in a saucepan over medium heat, add enough oil to coat the bottom of the pan and allow to warm. After warming, add the chicken and cook until browned, 2 to 3 minutes. Flip and repeat the process.
After cooking all the chicken, hold warm covered on a plate. Add the Marsala to the pan over medium-high heat. This will deglaze the pan. After deglazing, reduce the wine by three-fourths volume so 2 ounces remain. Then add the mushrooms. Stir the mushrooms, scraping the sides, then finish with the veal stock. Allow the stock to warm and thicken for 4 to 5 minutes, and then remove from the heat. Stir in the butter and finish by spooning over the cooked chicken. Garnish with fresh herbs or cheese if desired.
Notes
Can substitute chicken stock for veal or beef stock
Substituted 1/2 cube of butter for 1 stick of butter
Used olive oil in place of grapeseed oil
Used precut thin sliced chicken
Adapted from Robert Irvine
Try It Tuesday https://tryittuesday.com/