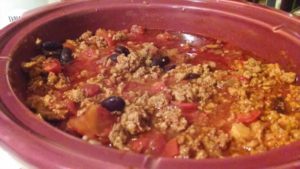 Chili has become a regular in the rotation at our house. I love it because not only does it taste good, it is super easy to prep in the morning, throw in the slow cooker, and have a delicious meal at ready at the end of the day. The original recipe does not require cooking all day in the slow cooker, but I think there is an added benefit for it. It really makes a difference to the flavor. And of course, I make a large pot so that we can have leftovers (it always tastes better on day two).
One of the biggest changes I made from the original recipe was making a substitute of ground chicken for ground beef. I honestly don't think it makes any difference to the flavor.
Chili
2016-04-15 18:35:25
Ingredients
2 lbs. ground chicken (or ground beef)
2 tablespoons olive oil
1 medium onion, chopped
1 large red bell pepper, chopped
1 garlic clove, minced
1/8 teaspoon salt
½ teaspoon pepper
2 cups water
1 (14.5 oz.) can of diced tomatoes
1 can of drained kidney beans
1 can of drained pinto beans
1 can of fire-roasted corn
1/4 cup chili powder
¼ to ½ teaspoon cayenne (optional)
2 teaspoon cumin
Optional for Toppings
Chopped fresh cilantro
Chopped onions
Shredded cheese
Frito's corn chips
Sour Cream
Instructions
Brown ground chicken (or beef)
Add onion, bell pepper, garlic and sauté for 1 minute
Add salt, pepper, chili powder, cayenne, and cumin, mix well. Allow to saute for 3-4 minutes.
In a slow cooker add
Water, beans, corn, tomatoes, and ground chicken mixture.
Cook on low 6-8 hours.
Serve in bowls with toppings of your choice.
Notes
For thicker chili add 2 tablespoons mesa flour mixed with 1/3 cup of water.
Try It Tuesday https://tryittuesday.com/