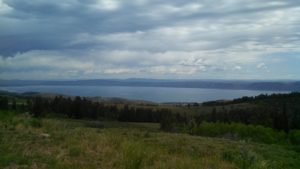 One of my favorite memories of living in Utah was our first trip to Bear Lake. Bear Lake is about a two hour drive northeast of Ogden through a beautiful canyon that climbs steadily up over the Wasatch Mountain range. As the road crests the top of the mountains, nearly 6000 feet in elevation, you are stunned by the most amazing views of a huge turquoise lake. The lake gets it's stunning color from limestone suspended in the water. I really loved hearing the stories of this lake, how it is reported to be so deep it is connected with Loch Ness in Scotland and has it's own version of the Loch Ness monster.
The Bear Lake area is also well known for raspberries. If you go, be sure to stop and get a raspberry milkshake. I promise you won't be disappointed.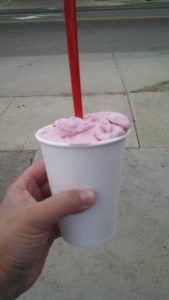 Maria and family were camping at Bear Lake that summer and invited us up for the day to hang out on the beach, let the kids play in the water and kayak, and then have dinner. This was our first introduction to Manti Chicken. Manti Chicken is named after a city in Utah where there is a large number of turkey farms (Yes I know I said turkey, but apparently if you read the history the recipe was originally used on turkey and people started using it on chicken).
The recipe I share here is not Maria's recipe although I would venture to say it's pretty darn close. It is truly a delicious recipe in it's simplicity. I made a easy roasted vegetable pasta salad with it (and the best part is the leftovers make great lunches).
Manti Chicken
2016-05-07 21:40:41
Ingredients
1 1/4 cup of Sprite
1 cup of soy sauce
1 tablespoon horseradish
2 cloves of garlic
1/2 cup olive oil
6-8 boneless skinless chicken breast tenders
Instructions
In a large bowl combine the Sprite, olive oil, horseradish, garlic, and soy sauce. Add the chicken breast and marinate for 6-24 hours. The longer it marinates, the better the flavor.
Grill on a hot BBQ 15-20 minutes until chicken is done.
Notes
I made this the other night and it only marinated for about 30 minutes. The flavor was still fantastic!
Try It Tuesday https://tryittuesday.com/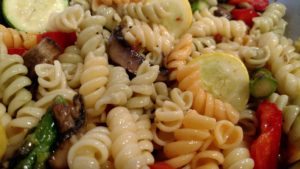 Roasted Vegetable Pasta Salad
2016-05-07 21:50:55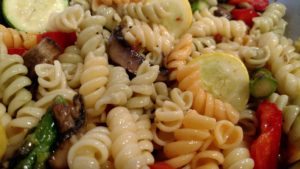 Ingredients
3-4 stalks of asparagus cut into bite size pieces
1/2 red onion sliced
1 yellow squash sliced
1 zucchini squash sliced
1/2 cup sliced mushrooms
1 red bell pepper chopped
1/2 cup Italian Salad Dressing
1 box of vegetable rotini pasta
Olive oil
salt and pepper
Instructions
Cook rotini pasta according to package directions. Drain and rinse in cold water to stop cooking. Place drained pasta in a large salad bowl.
Preheat oven to 350.
In a bowl mix all the vegetables. Add about one tablespoon of olive oil, 3-4 grinds of fresh pepper and about 1/8 teaspoon (or less) of salt. Toss to coat. Place vegetables on a shallow baking pan lined with foil, and roast 10-15 minutes until vegetables are starting to brown.
Remove the vegetables from the oven. Add them to the bowl of pasta. Add the salad dressing and toss to coat.
Serve.
Try It Tuesday https://tryittuesday.com/