As busy as we are during the work week, we are always on the look out for quick, easy, tasty meals. Steve first made this recipe from one of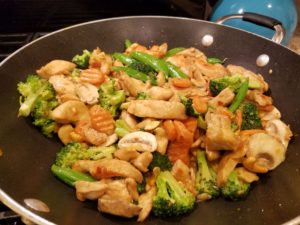 our cookbooks about four or five years ago. We have, over the years, committed the recipe to memory after the unfortunate lending of said cookbook to a coworker from which it never returned before we moved. This is, however, still one of our favorites. And we keep in in our regular rotation of menu items.
What's great about this recipe is you can purchase the pre-cut stir fry vegetables at the store and have them ready to go. And if you take a few minutes in the morning before leaving for work, you can easily prep the chicken and let it marinate all day.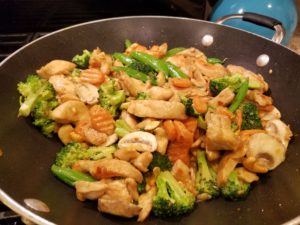 Cashew Chicken
2016-05-29 17:47:43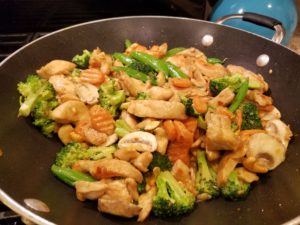 Ingredients
3-4 boneless, skinless chicken breasts sliced into small strips
1-2 cups of broccoli florette
1-2 cups of sugar snap peas
1-2 cups of sliced carrots (carrot chips work great)
1 cup sliced mushrooms
1/2 cup cashews
1/2-1 cup of soy sauce
1 tablespoon of corn starch
2 fresh chopped garlic cloves
1/4 teaspoon red pepper flake
salt and pepper to taste
2-3 tablespoons peanut oil (or olive oil if you can't use peanut oil)
1 tablespoon sesame oil
Optional: rice or Chinese noodles
Instructions
Slice the boneless, skinless chicken into small strips about 2 inches in length. Place the chicken in a bowl. Add the soy sauce, corn starch, and garlic in the bowl and mix well. Cover with plastic wrap and refrigerate for at least 1 hour or longer.
In a hot wok add peanut oil and sesame oil. Add the chicken. Season with salt, pepper, and red pepper flake. Stir quickly in the wok until chicken is cooked through and browned. (I use a spatter screen to keep the oil from spattering to much). Add the broccoli, peas, and carrots. Continue to stir. When vegetables are getting close, add the mushrooms and the cashews. Stir until mushrooms are sauteed and the cashews are warmed.
Serve. We like to serve this over rice or chinese noodles.
Notes
If you don't have a wok, a large skillet works great!
Add fresh grated ginger for a more spicy dish
Try It Tuesday https://tryittuesday.com/