Summer has finally crept into the Pacific Northwest. Just a few short weeks ago it teased us with several back to back 90 degree days, then cooled off and turned rainy. Now we are looking at a week of perfect 80 degree days.
I'm always on the look-out for quick and easy recipes that work well when the weather starts to warm up. The last thing I want to do is cook a huge meal and heat up the house.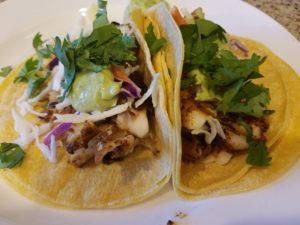 I realized not to long ago I had not made fish tacos in quite awhile. My go to recipe is simple. Place tilapia on a piece of foil and season it with a little olive oil, fresh ground pepper, and a little garlic. Grill over medium indirect heat until the fish starts to flake, about 8-10 minutes does the trick. Serve on warmed corn tortillas, topped with shredded cabbage (I buy coleslaw mix to save time), shredded cheese, and a copycat Rubio's yogurt sauce.
This time, however, I was inspired by a Baja Fish Taco recipe I saw on Pinterest. Steve brought home some fresh cod from our favorite fish market. This time, I seasoned it with my homemade Taco seasoning. Put the fish on foil and grill over medium indirect heat until the fish starts to flake (depending on thickness 8-10 minutes, the cod took longer because it was thicker than tilapia). I served the blackened fish on warmed corn tortillas, topped with shredded cabbage, chopped cilantro, and cilantro avocado sauce. The cilantro avocado sauce was delicious and would also make a great dip for corn chips.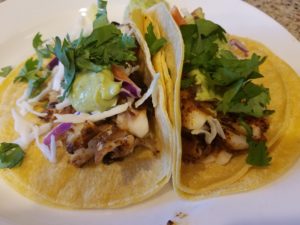 Blackened Fish Tacos
2016-06-26 13:42:12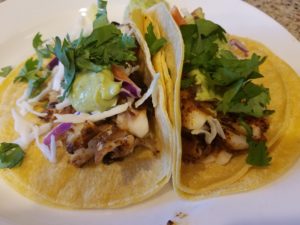 Ingredients
Cod (or your favorite white fish)
Taco seasoning (see separate recipe)
Corn Tortillas
Shredded Cabbage
Avocado Cilantro Sauce (see separate recipe)
Chopped Cilantro
Lime wedges
Instructions
Season fish with taco seasoning.
Place fish on foil.
Grill over medium indirect heat 8-10 minutes until fish flakes easily with a fork.
Warm tortillas in a large frying pan
Place fish on corn tortilla.
Top with shredded cabbage, avocado cilantro sauce, chopped cilantro, and lime wedges.
Notes
Depending on the corn tortillas, I sometimes use two per taco to help keep it from falling apart.
Try It Tuesday https://tryittuesday.com/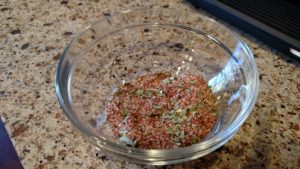 Taco Seasoning
2016-06-26 13:59:14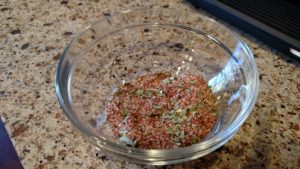 Ingredients
1 Tablespoon Chili Powder
1/4 Teaspoon Garlic Powder
1/4 Teaspoon Onion Powder
1/4 Teaspoon Crushed Red Pepper Flake
1/4 Teaspoon Dried Oregano
1/2 Teaspoon Paprika
1 1/2 Teaspoons Ground Cumin
1 Teaspoon Sea Salt
1 Teaspoon Black Pepper
Instructions
Measure all the ingredients into a small bowl. Stir!
To use for taco meat, add seasoning to the cooked meat in your frying pan and add about 1/4 cup or more of water.
Notes
I recommend using Penzeys spices, especially their California Sweet Paprika. It adds a smoky sweet flavor to the taco seasoning!
Try It Tuesday https://tryittuesday.com/
Avocado Cilantro Sauce
2016-06-26 14:03:03
Ingredients
1 medium or large avocado
Juice of 1 lime
1/3 cup cilantro
4 tablespoons Olive Oil Mayonnaise (or your favorite Mayo)
1/4 teaspoon salt (to taste)
1 teaspoon garlic powder
Instructions
In a food processor combine the avocado, lime juice, cilantro, mayonnaise, salt, and garlic powder and pulse til smooth. You may need to add a little water or milk to make it smooth.
Try It Tuesday https://tryittuesday.com/