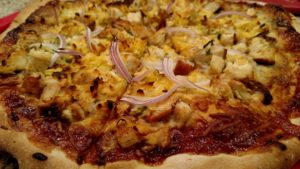 Ever since we made our first homemade pizza, it has gone into regular rotation in our menu planning. DD still prefers hers made with pepperoni and pineapple, but Steve and I have branched out into Thai Chicken and Barbecue Chicken Pizza.
Today I'm sharing our take on Barbecue Chicken Pizza recipe. It really is delicious! I recently made it when my MIL visited and she thought it was one of the best pizza's she had ever had. So there you go MIL approved.
Start by making homemade pizza dough. You can find the recipe I use by clicking here (for those of you who are new here, it was one of our early Try it Tuesday recipes).
Meanwhile, I season boneless skinless chicken breasts with olive oil, fresh ground pepper, garlic powder, and Penzys Sweet Curry powder (trust me here). Steve preheats the grill to medium high and grills the chicken about 10-12 minutes per side until done.
Slice about 1/4 of a red onion, chop about 1/4 cup of cilantro, and grate your favorite smoked Gouda – a good large handful should do the trick. When the chicken comes off the grill, slice one breast into bite size pieces. Save the rest and make quesadillas the next day.
Roll out your pizza dough. Spread your favorite barbecue sauce evenly over the dough (I use Sweet Baby Ray's) be sure it isn't too thick. Sprinkle shredded mozzarella cheese over the barbecue sauce. Top with chicken, onions, and cilantro. Last but not least sprinkle the smoked Gouda over the top.
Bake in a 500-degree oven for approximately 12-15 minutes until done.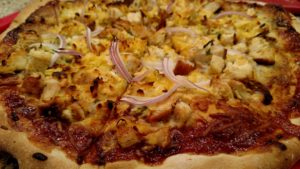 Barbecue Chicken Pizza
2016-07-08 17:19:37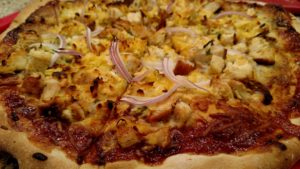 Ingredients
Pizza Dough
Sweet Baby Ray's Barbecue Sauce (or your favorite)
1 cup grated smoked Gouda
1/2 cup shredded Mozzarella
1/4 cup chopped cilantro
1/4 red onion, sliced
Boneless skinless chicken breasts
Fresh Ground Pepper
Olive Oil
Sweet Curry Powder
Garlic Powder
Instructions
Season the chicken with olive oil, curry powder, garlic powder, and fresh ground pepper. Grill on a medium-high heat 12-15 minutes until done.
Roll the pizza dough out to the size you want to make. Top with a layer of barbecue sauce, mozzarella, chicken, onions, cilantro, and last smoked Gouda.
Bake in a 500-degree oven 12-15 minutes.
Notes
When building your pizza, you can add more or less of the ingredients.
Try It Tuesday https://tryittuesday.com/