As we saw last week with the gooey yumminess of our guest blogger, Shaheen's chocolate brownie recipe, Try it Tuesday does not have to be all about finding a new dinner recipe.
Case in point – I have been obsessed with finding the perfect pretzel and beer cheese combination ever since discovering how much better life is with beer cheese. I'm not talking your lunch style snacking pretzels, I'm talking the soft, warm, slightly salted kind you get at your favorite pub.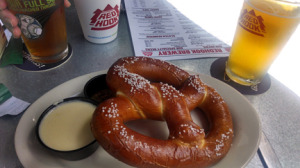 Two of my favorites are the Fondue Pretzel made with Swiss Cheese and Drop Top Amber Ale at Widmer Brewery in Portland, Oregon (just leave the little cup on the table – I'm going to finish it even though my pretzel is gone) and the Brewery Pretzel at Forecaster's Pub at Redhook Brewing in Woodinville, WA. The creative marketing geniuses at Forecaster's have it right in their description of the Brewery Pretzel – "a warm salted carriage device used for transporting ESB cheese sauce … to your mouth."
I've had some really awful beer cheese also. The kind you keep eating because its beer cheese right? It just has to get better. Yet every bite you take reminds you how awful it really is. Then you eat another bite because its beer cheese – how can you ruin beer cheese? And so on until you realize after six or seven bites that it is really possible to ruin beer cheese.
I have wanted to try making my own making my own homemade pretzels and beer cheese for awhile. A friend suggested I just buy the premade pretzels frozen at Costco and make the beer cheese. While I could have easily done that, somehow I felt like it was cheating. So what's a girl to do? I started pinning different recipes waited for a chance to make them. Did you know October is National Pretzel month? How perfect is that?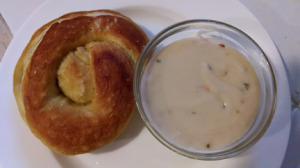 I used soft pretzel recipe from Lucillian Delights. The only changes I made were to brush the tops with olive oil instead of egg wash which worked surprisingly well. I used Luci's morsels IPA Beer Cheese recipe – only I used pepperjack instead of cheddar.
One final note, making pretzels from scratch does take work, but in a pinch the premade frozen ones from the grocery store will work.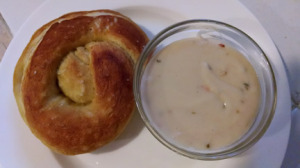 Soft Pretzels
2015-09-14 19:01:36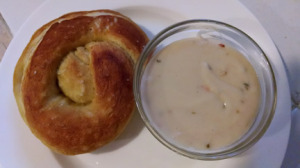 Ingredients
1 package dry yeast (about 2 1/4 teaspoons)
1 1/2 teaspoons sugar
1 cup warm water (100° to 110°)
3 1/4 cups all-purpose flour, divided (about 14 1/2 ounces)
1 teaspoon salt
Cooking spray
6 cups water
2 tablespoons baking soda
1 teaspoon cornmeal
1 teaspoon water
1 large egg
2 teaspoons kosher salt
Instructions
Dissolve yeast and sugar in warm water in a large bowl, and let stand for 5 minutes.
Lightly spoon flour into dry measuring cups; level with a knife. Add 3 cups flour and 1 teaspoon salt to yeast mixture; stir until a soft dough forms. Turn dough out onto a lightly floured surface; knead until smooth and elastic (about 8 minutes). Add enough of remaining flour, 1 tablespoon at a time, to prevent dough from sticking to hands (dough will feel slightly sticky).
Place dough in a large bowl coated with cooking spray, turning to coat top. Cover and let rise in a warm place (85°), free from drafts, 40 minutes or until doubled in size. (Gently press two fingers into dough. If indentation remains, the dough has risen enough.) Punch dough down; cover and let rest 5 minutes.
Preheat oven to 425°.
Divide dough into 12 equal portions. Working with one portion at a time (cover remaining dough to prevent drying), roll each portion into an 18-inch-long rope with tapered ends. Cross one end of rope over the other to form a circle, leaving about 4 inches at end of each rope.
Twist the rope at the base of the circle. Fold the ends over the circle and into a traditional pretzel shape, pinching gently to seal. Place pretzels on a baking sheet lightly coated with cooking spray. Cover and let rise 10 minutes (pretzels will rise only slightly).
Combine 6 cups water and baking soda in a nonaluminum Dutch oven. Bring to a boil; reduce heat, and simmer. Gently lower 1 pretzel into simmering water mixture; cook 15 seconds. Turn pretzel with a slotted spatula; cook an additional 15 seconds. Transfer pretzel to a wire rack coated with cooking spray. Repeat procedure with remaining pretzels.
Place pretzels on a baking sheet sprinkled with cornmeal. Combine 1 teaspoon water and egg in a small bowl, stirring with a fork until smooth.
Brush a thin layer of egg mixture over pretzels; sprinkle with kosher salt.
Bake at 425° for 12 minutes or until pretzels are deep golden brown. Transfer to a wire rack to cool.
Adapted from Lucillian Delights
Try It Tuesday https://tryittuesday.com/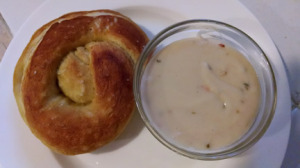 Pepperjack IPA Beer Cheese
2015-09-14 19:57:16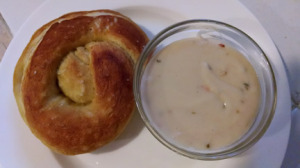 Ingredients
2 Tablespoons butter
3 Tablespoons flour
1/2 Cup milk
3/4 Cup of your favorite IPA (drink the rest with your pretzel!)
1 teaspoon mustard
2 teaspoons Worcestershire sauce
hot sauce, to taste ( I added a few dashes and didn't get a spicy flavor at all)
1 package shredded pepperjack cheese (about 12 ounces)
Instructions
In a saucepan over medium heat, melt the butter.
Add the flour and stir constantly until thoroughly combined.
Slowly whisk in milk and beer.
Increase heat to medium-high and bring mixture to a simmer – it will be foamy.
Add the mustard, Worcestershire, and hot sauce.
Cook 3-5 minutes, stirring consistently, until mixture thickens. Add cheese into mixture one handful at a time, melting completely between each addition.
Serve immediately. Dip will thicken as it cools.
Adapted from Luci's Morsels
Try It Tuesday https://tryittuesday.com/