Did you know you can roast marshmallows in the oven? I know right? Stop the presses, this is probably the second best way to roast marshmallows (I might even argue the best) and it is super simple!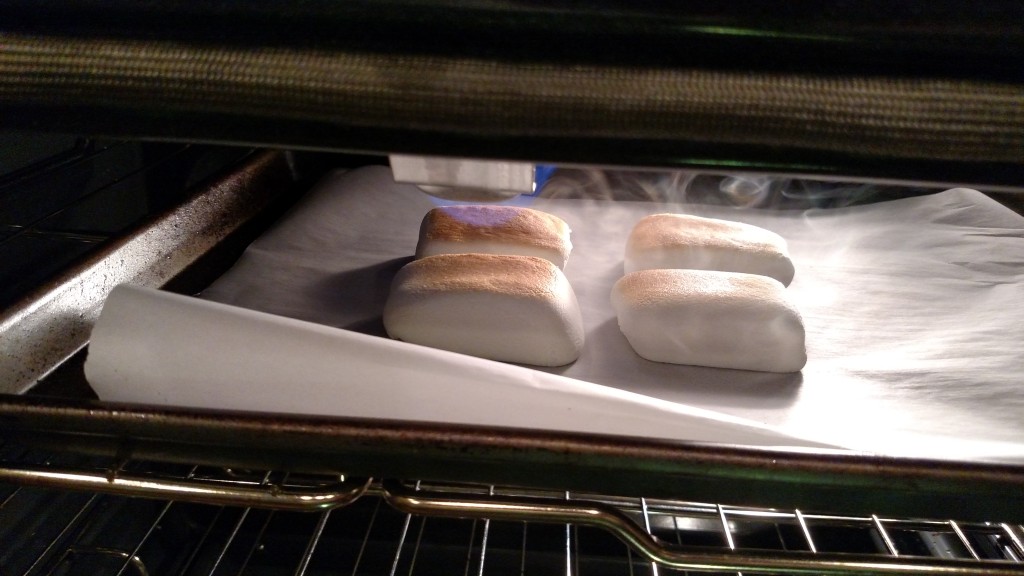 Cookie sheet, parchment paper, marshmallows (the new flat ones designed for S'mores work superb) and your broiler. Preheat your broiler, place the parchment paper on a cookie sheet, add the marshmallows – only takes about 30 seconds, so watch them closely! Pull out the pan, let it sit for about a minute to cool, flip them over. Put them back in the oven for about another 30 seconds and Voila – the most perfect toasted marshmallow!
We used these to make S'more Milkshakes. The original recipe called for blending toasted marshmallows into the ice cream. After an incident earlier this week with toasted marshmallow frozen yogurt (not so much) we skipped that part. The original recipe is on Bombshell Bling.
S'mores Milkshake
2015-09-13 12:14:41
Ingredients
Large Marshmallows
Vanilla ice cream
Milk
Chocolate Bar
Chocolate Syrup
Crumbled Graham Crackers
Instructions
Toast the marshmallows according to the directions above. In a blender, add ice cream and milk (and some toasted marshmallows if you want that flavor) to the blender and blend until your desired thickness. Pour into a glass, garnish with chocolate syrup, a piece of the chocolate bar, a toasted marshmallow and crumbled graham crackers.
Adapted from Bombshell Bling
Try It Tuesday https://tryittuesday.com/