Yesterday I went to the Renton Farmer's Market. I love the sites and sounds of a good farmer's market. The smell of kettle corn wafting on the breeze, the vendors calling to you as you walk by, the heady scent of the floral carts.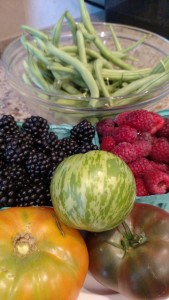 I usually walk through the market twice. The first time to get a good idea of what is available. It also gives me time to think about what I want to make. And it gives me a chance to see if the heirloom tomatoes are in and if I'm going to get a caprese salad this week. I ended up with green beans, heirloom tomatoes (of course), raspberries, and blackberries. I'm contemplating a caprese salad with blackberries….
In the meantime, I had to do something with those green beans! I asked our group for some suggestions and of course pinned a few new recipes. This one sounded delicious, Copycat PF Changs Spicy Green Beans by the Domestic Super Hero. Just to note, I didn't have corn starch on hand (I left it out) and I did cut the amount of red pepper flake to about 1/2 tsp (believe me it was spicy enough). This was a perfect, easy, and quick side dish.
Spicy Green Beans (Copy Cat PF Changs)
2015-09-14 17:51:28
Ingredients
1-2 lbs green beans, trimmed and cut into 2 inch pieces
2 green onions, chopped thinly
1 tsp red pepper flakes + 1/4 tsp
4 garlic cloves, minced
2 TBS sesame oil
1/8 tsp salt
1/8 tsp ground black pepper
2 TBS low sodium soy sauce
1 TBS rice vinegar
1 tsp white granulated sugar
1/4 cup water
1 tsp corn starch
Instructions
In a wok or large skillet, add oil; let heat over medium high heat for 30 seconds. Add garlic, green onions, and 1 tsp red pepper flakes. Stir fry quickly, for about 30 seconds. Add green beans and stir constantly until they are almost fully cooked, about 3 minutes (should turn deep green). Push green beans to the side, pour sauce into pan, stir to distribute sauce to bottom of pan. Cook for 30 seconds over medium high heat; allow to come to a boil, reduce heat to low, stir to coat green beans with sauce. Cook for 30 more seconds.
Serve and enjoy!
Try It Tuesday https://tryittuesday.com/